Michael Murphy from the Speakers Bureau for the Supreme Court's Arkansas Courts & Community Initiative came to our Rotary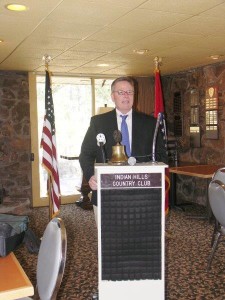 Club to tell us some about the purpose and activities of Arkansas Supreme Court. Michael Murphy opened a private law practice in Conway in 1988. He was elected Conway City Attorney in 1990 and is currently serving his sixth term. He represents Faulkner and Van Buren counties in the Arkansas Bar Association House of Delegates.
This initiative is intended to raise public awareness of the role the courts play in our three branches of government and specifically address the importance of the Rule of Law in our nation's fabric and the importance of fair and impartial courts.
With that in mind, volunteer attorneys and judges go out across the state to present this message. The program is entitled "A Nation of Laws" and it is the goal of the Arkansas Supreme Court to take this program to all civic and social clubs in the state to raise the level of discourse on these topics.
Specifically, the key points of the presentation involved how fair and impartial courts in our system of democracy protects our freedoms; that there are checks and balances within the judicial system to ensure that courts are fair and impartial; that there is a three-tiered structured court system in Arkansas, which has a caseload of over 1.3 million cases filed on average in a year, but accounts for less than 1% of the state's budget and that judges in Arkansas are elected.