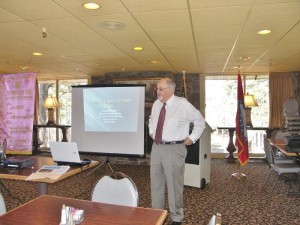 For a change, we had a report on Fairfield Bay Accomplishments. In particular our new renovated Conference Center. Bob Thompson manages the facility and gave us a detailed report.
Somehow I feel our community has grown up; we have a place to have conferences, to arrange parties, to have concerts and plays. Even in the Middle Ages, cities competed with the most elaborate architectural structures and were judged by their ability to create cultural environments. We are not as elaborate as places in Europe in the past. We simply don't have the immensely rich feudal upper classes, but we do need a facility to express cultural aspirations and our new Conference Center does just that.
Bob Thompson talked to us about our new Conference Center and all it offers our community. Bob received a Degree in Mathematics and Science from the University of Maine at Presque Isle. He taught Secondary Chemistry and Algebra in the public school system for several years. Then he moved into the field of Pulp and Paper Science and retired from Buckman Laboratories of Memphis, Tennessee in 2007. After retirement, he married the former Wilba Likeness and moved to Fairfield Bay in May of 2007. Currently Wilba and Bob are the Co-Directors of the Fairfield Bay Conference and Visitor Center at Fairfield Bay.
The Conference and Visitor Center is home to Performing Arts Theater, home of the Our Towne Players and the North Central Arkansas Foundation for Arts and Education. The Center also houses the North Central Arkansas Art Gallery. The Center is owned by the City of Fairfield Bay and was totally renovated by a grant obtained our Mayor, Paul Wellenberger, and our City Council. The citizens of Fairfield Bay have given generously to help and support the Center. Gifts to date total more than $174,000 dollars. The Center was opened on October 12, 2013 and is staffed by wonderful Fairfield Bay Volunteers. Joyce Dobbs is volunteering up to fourty hours a week as the Conference Services Planner. Many of our volunteers, both men and woman, give eight to ten hours each week; we could not make it with them.
Conferences and Meetings are the key to the success of the Conference Center. We are developing our website so you can reach us and find out what is going on at Fairfield Bay Conference Center.com, as well as on Facebook. The Center can host conferences and meeting, banquets, weddings, reunions, proms, and most any event you would like to have. We want the Conference Center to become a center for life here in Fairfield Bay. We have been very busy booking events and have hosted several successful happenings in the last four months. Our goal is to bring in new business and strengthen our vacation business. We want the Greers Ferry Lake Region to use the Center here in Fairfield Bay to brighten their quality of life. The Center is open Monday through Friday from 9 a.m. to 4 p.m. and on Weekends for special events. The Center offers free Wi Fi and invites the residents and visitors to Fairfield Bay to come in and see us, visit the gallery, use our Wi Fi and have a cup of coffee. You will find a friend and a smile when you do. Bob or Wilba can be reached for info at:
Email: [email protected]
Email: [email protected] or call: Wilba Cell: 501-412-7707, Bob Cell: 501-253-5707.