by Fred Hilsenrath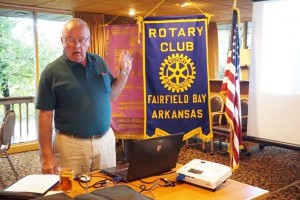 Robert Berdine, Community Club Board Member, told us at Rotary, about plans and finances of our town. He has been a board member since 2008, treasurer, and president for 2 years. Bob has also been a member and president of the Master Gardener program in Van Buren County, and also president of the Arkansas State Master Gardener program. Bob was also president as well as an original investor and member of Board of Directors of the Fairfield Bay Fitness Center.
Bob is currently 73 years old, married to Sharon Berdine for 51 years. They have 2 sons and are residents of Fairfield Bay since 1998. Bob and Sharon are members of the Kirk of the Hills Presbyterian Church in Fairfield Bay. Bob is an Elder and past chairman for the Fellowship Hall building committee.
He is a past manager and president and project manager and member for the Kirk Men's Club which builds ramps for the handicapped at home, repairs roofs, walls and floors due to water damage. He also made two mission trips to the Gulf for Katrina repair.
Bob holds a Master's degree in business administration from Bradley University.
With all those activities in his life he was also a US Navy Lieutenant, 5 years on active duty, 2 years in Viet Nam. Bob worked for Caterpillar Inc. for 30 years. Areas of work included manufacturing engineering systems, data processing, factory management and research assignments. These included university relations for research programs. Bob retired in 1998 as a Division Manager.
Next Bob told us about Fairfield Bay plans and accomplishments:
Our Mayor appointed a team of 13 members, Team 2035, to envision what Fairfield Bay should become in the next 20 years.
First we plan to grow to a population of 6500 residents, then we identified roadblocks to growth:
We need broadband internet access.
Our roads were bad and gave an impression of a neglected community, The mall looked like we are a dying community.
We badly needed overnight lodging.
We also needed to liven up the real estate market.
To start that endeavor we identified a need for funds for the mall project and raised $ 5K with a dinner. We will have $1.5 K left over when that project is done. No Community Club or City funds had been used.
Effective city management takes foresight, courage and 'get up and go'. We are lucky, we have it.