by Fred Hilsenrath
Rotary gets involved in a number of world wide worthy projects to support but certainly our focus here is on education support.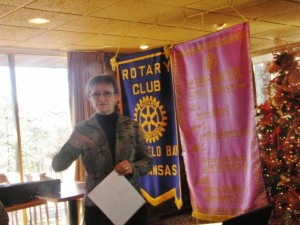 Karin Cooper talked to us about ASU Heber Springs. Karen Cooper is Assistant to the Vice-Chancellor for ASU-Heber Springs. She was the featured speaker for the Fairfield Bay Rotary Club on Wednesday, December 18, 2013. The audience was given background information on the development of the campus beginning with the first classes that were offered as night classes on the high school campus, continuing through the addition of the Latimer Center at 71 Cleburne Park Rd to the current beautiful buildings at the base of the Heber Springs Sugarloaf Mountain. Program details were discussed concerning degrees and certificates offered by the college as well as scholarship opportunities. The Community Education Center at Fairfield Bay was highlighted along with the opportunities for continuing education on the Heber Springs campus as well. The program concluded with remarks and music from ASU-Heber Springs student, Meleah Bustos.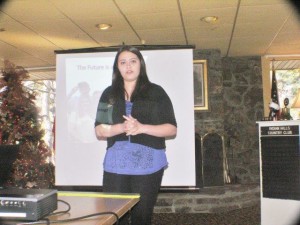 Meleah Bustos is one of the success stories of Heber Springs. Meleah was a valedictorian student and persisted in advancing her career by working hard in school. She plays delightfully on her guitar and performed for us at Rotary to our delight. Persons interested in obtaining more information about ASU-Heber Springs may call their main office number at 501-362-1100.
Karen Cooper is a life-long resident of Cleburne County. Prior to coming to work for ASU-Heber Springs in 2004, her career as an educator began with the Bradford School District where she served for two years before returning to her Alma Mater of Concord High School. She spent a total of 26 years in secondary education as a math instructor, librarian/counselor and principal. She also served on the initial advisory board for ASU-Heber Springs and taught adjunct classes in Psychology, Developmental Algebra and Freshman Seminar.