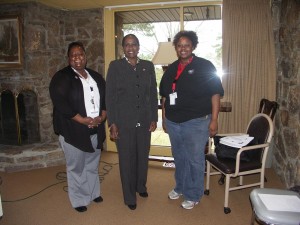 One of the wonderful organizations that I have known in my time is the Red Cross, active all over the world. We had three speakers telling us about our American Red Cross here in Arkansas:
Ershelle Newsome, Retired Chief Executive Officer and resident of Fairfield Bay, Patricia Fry, American Red Cross Disaster Manager, Central Arkansas, and Shana Beel, Assistant to Ms. Fry.
Here is a brief set of American Red Cross Information:
Mission Statement: •The American Red Cross prevents and alleviates human suffering in the face of emergencies by mobilizing the power of volunteers and the generosity of donors.
Services Provided: •Disaster Services, Services to the Armed Forces, Health & Safety, Volunteer Management, Public Relations and fundraising are centrally managed.
Arkansas American Red Cross: •Split into five zones (Northwest, Southwest, Central, Northeast, and Southeast). •Three (3) Chapters: Little Rock, Tontitown and Jonesboro. •Central Zone is comprised of eleven (11) counties (Stone, Van Buren, Cleburne, Conway, Faulkner, White, Perry, Saline, Pulaski, Lonoke and Prairie). These counties are serviced through offices in Conway, Searcy, and Little Rock.
How Arkansas' Red Cross Stays Prepared: •19,000 Service Volunteers in the Arkansas Region. •Prepositioned supplies, shelter agreements (with other community organizations like churches and community centers), Emergency Response Vehicles and trailers that are filled with supplies that can be made available during a Disaster Response Operation. •Community disaster preparedness education to the public. As it happens so often, I have fond memories of the Red Cross in Europe right after World War II.
My mother and I had just been freed from our concentration camp in the Ukraine. We did not know whether my father was still alive. Last we knew he was underground in France. We contacted the Red Cross and they promised to assist us in our search. My father did the same in France and somehow the Red Cross matched us up and notified us of each others whereabouts. We were so happy and jubilant to find our father. Soon after that, mother and I embarked on the adventurous trip across post war Europe from Romania to France. No United Airlines or the like; walk and hitch-hike were the only way. We started in October 1945 and arrived in France in January 1946 and were happily reunited thanks to the Red Cross.