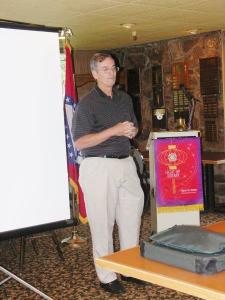 Our mayor, Paul Wellenberger gave an impromptu report about the state of our Fairfield Bay community. Our community has a number of projects going: trails, road planning, Castle Ridge paving schedules, the new offices in our country club building, medical clinic construction and broadband grant status. We have indeed an active program under Paul Wellenberger's energetic leadership. Here are some of the details:
1) Rambling Cove trail at the marina entrance. .25 mile Trails for Life trail to be paved this week. New mountain bike and hiking trails proving to be popular as well as the new Connector Trail between Woodland Mead Park and Ed Leamon Gardens.
2) Castle Ridge request for bids was released August 20. Bid opening set for September 17. Road should be completed by mid December
3) The new offices are complete. Some additional work is being done to dress up the lobby area.
4) Medical office construction started ahead of schedule on August 13. The new Ozark Health Clinic plans to open by November 1. Dr. Coward will be the physician.
5) Delta Regional Authority Grant Request for improved broadband coverage in Fairfield Bay still in contention with 160 other projects. Expect to find out in December is we are selected for an award.
We are privileged to live in a beautiful part of our state and my normal conclusion is that we ought to be more sought than we are. Yes, we have a lake crowd on July 4th, on Labor Day and Memorial Day but somehow our community is not growing by leaps and bounds as I would expect it to grow. Of course it has the advantage of peace and quiet and perhaps we should be happy with that. Paul has certainly seen to it that we now have a good community center, better roads, better medical access and better educational facilities.