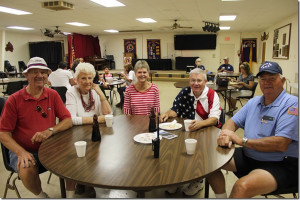 by Jim & Phyllis Wilkins
Thanks from the Fairfield Bay Lions Club to all our local friends and out of town visitors who joined us for the 4th of July breakfast at the Lions Den. Over 130 folks enjoyed All-U-Eat pancakes and gravy biscuits before and after the parade. Proceeds from this event and all of our breakfasts on each Tuesday and Saturday morning 8 – 10 am go to assisting with our vision program and other charitable programs. Thanks again and come join us soon. (Photo courtesy of Brandi Vandygriff).
The Fairfield Bay Lions meet the 2nd and 4th Thursday of each month with dinner at 5:30 p.m. and the meeting with guest speaker at 6 p.m. Dinner is $7.50 per person and reservations are requested by Monday the week of the meeting. Our next meeting will be Thursday, August 14th when our guest will be Paula Bryan speaking on how she raises goats and the natural foods they provide her such as milk, cheese and yogurt.
BINGO is held each Sunday evening at the Lions Den on Dave Creek Parkway with doors opening at 5:30 pm and the first game called at 6pm. The All U Can Eat Pancake and Gravy Biscuit breakfasts held each Tuesday and Saturday morning will continue until Labor Day.