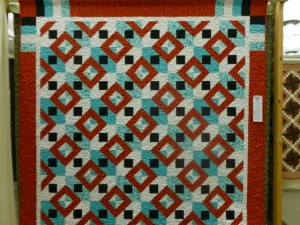 In contrast to the winter weather that had caused the cancellation of our January meeting, Wednesday, February 17 was a beautiful, spring-like day for Piecemaker's monthly Quilt Club meeting, with more than 34 members, new members and guests in attendance. Susan Moore, our new president, and Evelyn Eades, our new vice-president, were both unable to attend, so Pamela Davis, Club secretary, welcomed everyone, conducted the business meeting, and gave the treasurer's report. Spring Retreat is scheduled for April 4 – 7, 2016. Jan Savu coordinated the sign-up for the retreat. Connie Reamy, our Community Service Coordinator, has been researching service projects for the Club to do this year. We discussed making "Fidget Quilts" for the nursing home and the need for Port Pads and Hand Pillows. We will decide on a project and make plans for a Sit and Sew at our next meeting.
Jill Hardison is in charge of our Honor Quilt project and we will be doing a Sit and Sew in March to work on blocks and quilts. Bring your Sewing Machine and sewing supplies and Jill will provide materials. You can also work on blocks. Bernardine Walter is coordinating the 9-Patch exchange. Participants should complete the blocks for the box they have and return it next month to exchange for a different box. Eloise Brown will be presenting our Block of the Month project this year which will be a "Mug Rug" of the Month. Victoria Banks brought pocket Calendars donated by the Sewing Center for everyone who wanted one.
Pamela Davis explained the UFO Challenge which will be ongoing throughout the whole year. All eligible projects must have been started prior to 2016 and finished in 2016. The projects should be Quilts or Wall-hangings at least 24-inches square. At the end of the year, there will be two prizes given—one for the oldest project completed and one for the most unfinished projects completed.
Sew 'n' Tell is always the highlight of our meetings. This month we saw: a Bonnie Hunter Allietare Mystery Quilt; 2 baby quilts from panels; a "Wear Warm Clothes" winter quilt; a 2015 BOM quilt top in batiks; a star BOM quilt top in batiks; a medallion BOM quilt top in reds; a Maisy Daisy paper-pieced quilt; a 2014 BOM quilt in reds; a 3-fabric quilt; a blooming 9-patch quilt; another Bonnie Hunter Allietare Mystery Quilt; masculine pot holders and kitchen towels; a Fons & Porter stars quilt; a Christmas Cardinal table runner; a "Giving Quilt" baby quilt.
Doris Brown and Jan Savu led the Paper-Piecing Sit and Sew. Participants learned the basics of paper-piecing and completed a tree block. They also got instructions for a heart block. Thank you, Doris and Jan for an informative and fun class! Piecemakers' next meeting will be on Wednesday, March 16, 2016 at 10 a.m. at the Methodist Church in Clinton. Guests are welcome to attend.