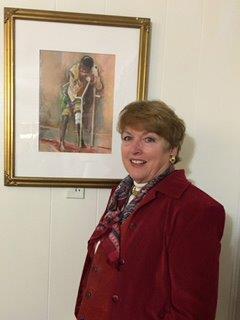 The North Central Arkansas Art Gallery is featuring Award Winning Artist, Suzann Waggoner, for the month of February. Suzann is new to the art gallery and her paintings are being very well received. Be sure to come see her paintings as well as our thirty six other artists' artwork. This is a great time to visit the Art Gallery with our questionable weather. You can leisurely view the art and be entertained as well as informed by the variety of paintings, photography, sculpture, stain & fused glass and pottery. All the artwork is for sale and the gallery is open to the public. The following is information about our feature Artist:
Suzann de Shazo Waggoner attended Florida State University where she majored in both the study of Fine Art and Commercial Art, with minors in Art History and French.
She was born at the close of World War II and was a witness to tremendous upheavals in economic and social changes. These changes have allowed her to broaden her views on choice of media and subject matter and to expand her art horizons without limitations.
Her paintings in watercolor, oil and mixed media and her pen and ink and graphite drawings have been accepted into selected, juried, art competitions throughout the United States. She has won many top awards in regional art exhibitions, including Best of Show Awards, twice, in the Texas and Neighbors Competition and The Winsor and Newton Watercolor Excellence Award in the San Diego International Watercolor Exhibition.
She is a signature member of Mid-Southern Watercolorists and also serves on their Board of Directors. Her art works are represented in the Arkansas Artist Registry and in the Archives of Women Artists, National Museum of Women in the Arts, Washington, D.C.
She has recently received notice that the National Society Daughters of the American Revolution had reviewed her art work and has presented her with the Women in the Arts Recognition Award for Lifetime Achievement. The award will be presented to her in March, 2016, at the State Conference in Little Rock.
Ms. Waggoner lives on a very quiet, 30 acre farm in Mount Vernon, Arkansas. She and her late husband raised five children in the tiny rural town. "All of them are extremely successful and productive adults, but none of them elected to become artist," she says.
The new NCA Art Gallery's thirty six artists exhibiting their artwork are the following- Painters: Sandra Marson, Cathy Wester, Susanne Waggoner, Joyce Hartmann, Charlotte Rierson, Doris Sexton, Dorothy Hendrickson, Rebecca Loftis, , Joyce Hubbard, Bonnie Hookman, Yun Kim, Sue Pico, Jan Cobb, Julie Caswell, Fran Pattillo, Ellen Kelly, Judith Beal, Robbie Miller, Alison Shreck, Dianne Traylor, Lea Berry, Pauline Sears, Jeanne Homuth, Gay Ryan, Kathleen Hadley; Photography-Lee Phillips, Elizabeth Beech, Brandi Vandygriff, Jennifer Kuipers, Robert Gaut, Jim Beach, Makala Strang; 3 Dimensional- Linda Pledger, Collene Halldorsen, Barbara Cornett, Anne Mitchell, Karen Gehl. The NCA Art Gallery/Fairfield Bay Conference Center is located at 110 Lost Creek Parkway, Fairfield Bay. The hours are Mon. –Fri. 9 a.m.-4 p.m. and also open for special occasions. The viewing is free to the public. For more information contact Art Gallery Coordinator, Charlotte Rierson, [email protected], 501-884-6100 or Conference Center at 501-884-4202.