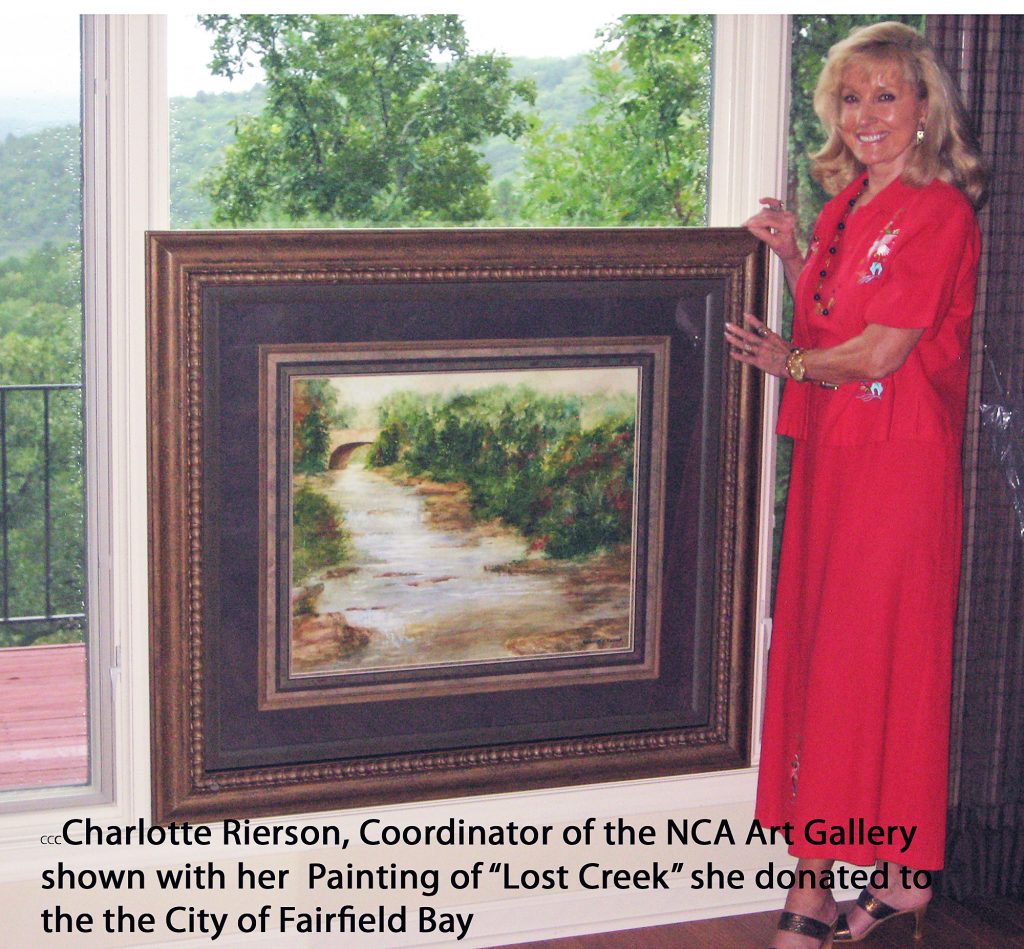 Charlotte Bailey Rierson, Coordinator of the North Central Arkansas Art Gallery-Fairfield Bay Conference Center.
Throughout her life, Charlotte has been on what she calls her "Art Spirit Journey." This journey of personal creativity has led her from teaching the dance arts to expressing her deepest thoughts and emotions through painting. Charlotte's "Art Spirit Journey" probably started before she was born, because both her parents and their families were deeply involved in the arts. She grew up near Little Rock in the bedroom community of Jacksonville where her Grandfather, John Henry Bailey, was the first mayor. There, her Grandmother Bailey shared with her stories of her travels and her beautiful two story brick home filled with antiques, art, and a music room. Charlotte's maternal grandparents lived on an old-fashioned stereotypical farm in Perry County.
When Charlotte visited her Grandma and Grandpa Oliver Powers, her grandmother would teach her various arts and crafts. Her Grandma belonged to a little Baptist church down in the valley in Bigelow. The women had arts and craft get-togethers, which her Grandma loved sharing with Charlotte. What was especially fun was that the only way to get to her grandparent's home was to cross the Arkansas River on the "Toad Suck Ferry". When she was very young Charlotte loved walking to the local art teacher, Avo Traylor in Jacksonville and she would let her play with her paints. Charlotte's combined early exposure to the different arts began her lifelong love and fascination for the Arts. Charlotte said her parents were the kind of parents who would have spent their last dollar to provide lessons and exposure to the arts for her.
A university education was important to Charlotte as well as to her parents. She graduated from the University of Central Arkansas in Conway with a Bachelor of Science Degree in Education with an emphasis on art education in kindergarten through 12th grade. While going to college Charlotte continued her Dance Arts School. She started her family and had two children a daughter Rene and son Jim. After graduating from college and raising her children Charlotte turned her interest from teaching dancing to museum work. She trained and worked as a docent at the High Museum in Atlanta, then took a university-accredited course in museum management under Townsend Wolf at the Arkansas Arts Center. At the Art Center she studied visual arts and art appreciation. She also worked as volunteer docent leading school children on tours through the gallery exhibits.
In 1984, she met Don Rierson, an Air Force Officer and Fighter Pilot at Randolph Air Force Base, San Antonio, TX. They had a short courtship before marrying in Don's hometown of Las Cruses, New Mexico. Charlotte moved to San Antonio and continued to study art at the San Antonio Art Institute. The San Antonio Express News Fashion Writer contacted her and Charlotte was featured in the Sunday Style Section. The headline was Artist Makes Visual Artistic Statement in the clothes she wears. From San Antonio Don was stationed to Frankfurt, Germany in 1985 for a little over five years. She says that was like living a fairy tale for this small town gal. She continued her painting, danced with a dance troop at the Frankfurt Playhouse and traveled with an international women's club. Charlotte said she made every day count on being a part of the culture and traveling. Don was fortunate to be transferred to Little Rock Air Force Base after leaving Germany. He was the Squadron Commander who headed up the fighter pilot planes with the Joint Readiness Training Center. Charlotte was now home in Jacksonville. This time Charlotte was serving on the Jacksonville Chamber of Commerce Cultural Affairs committee representing the military instead of a civilian working with the military.
While phasing out the last few years in Arkansas, they decided to retire in Fairfield Bay. It was close enough to Charlotte's home of Jacksonville, and they loved the scenic area. When Charlotte and Don moved to Fairfield Bay they immediately got involved with the community. They are active members of the Presbyterian Church. There was a newly organized North Central Arkansas Foundation for the Arts and Education, (NCAFAE) and Charlotte helped develop their programs. She was awarded the Arkansas Arts Council's 1998 Arkansas Governor's Arts Community Development Award. Her most gratifying accomplishment occurred when she was the volunteer executive director for North Central Arkansas Foundation for the Arts & Education and brought fine arts exposure into the 13 school districts in the three-county area. This program continues to this day, helping to develop local children's appreciation of quality music, dance, poetry, drama, and the visual arts. During her "Art Spirit Journey" Charlotte has gone from choreographing and teaching the dance arts for many years to now expressing her artistic spirit through the Visual Arts of painting, Charlotte is a signature member and Past President of the Mid-Southern Watercolorists, the Arkansas Artists Registry, Repertory Theatre Artworks, the North Central Arkansas Artist League, Conway Artist League and a signature member of the Arkansas League of Artist.
She has won numerous art awards; her paintings have been juried into exhibits with the Arkansas Arts Council's Small Works on Paper and one of her paintings won the Small Works on Paper's purchase award and is in the permanent collection of the Arkansas Heritage Commission. Charlotte had one of her paintings selected to be in the Arkansas Artist Exhibit in the Nation's Capital in Washington D.C. and an award winning painting is now in the permanent collection of the Historical Arkansas Museum in Little Rock. She also has artwork in permanent collection of the University of Central Arkansas, Clinton Presidential Library and the Ozark Health Center in Clinton. One of her paintings was selected for the Arkansas Governor's Calendar. Charlotte has artwork exhibited throughout the state and has paintings displayed at one of the Repertory Theatre's productions each year. Charlotte's One Woman Exhibits have been at Garvan Woodland Gardens in Hot Springs, the Ozark Heritage Art Center and Museum in Leslie, Cleburne County Art Council Art Gallery in Heber Springs, the Fairfield Bay Library and will have an exhibit at the Clinton First Security Bank this fall. Charlotte has artwork featured in the art books "A Gathering of Artists", Vol. II and "Art & Artisans of the Ozarks" Vol II., featured in an issue of Arkansas Life Magazine. Most recently she won first place in water media category at the Conway Artist League and juried in the the Arkansas League of Artist Annual Exhibit. Charlotte's paintings were selected to be in the 2015 & 2016 Arkansas Committee of the National Museum of Women in the Arts' website at www.acnmwa.org.
Charlotte says, "I have a deep sense of caring and wanting to reach out to others through the Arts. The North Central Arkansas Art Gallery sponsored by the City of Fairfield Bay and the NCAFAE is a way of channeling groups and individuals into a greater awareness and participation in the cultural arts." Charlotte's art continues to evolve as she reaches greater heights with each new painting, exemplified by the many award-winning works Charlotte says she does not know where her "Art-Spirit Journey" will take her, but will remember her family, friends, teachers, and supportive husband that have helped her along the way. Her artwork may be viewed at the NCA Art Gallery and the following websites:
http://.artspiritunlimited.com http://www.fineartamerica.com/profiles/charlotte-bailey-rierson.
http://www.arkansasarts.org/artist-registry/charlotte-bailey-rierson
About the North Central Arkansas (NCA) Art Gallery.
The North Central Arkansas (NCA) Art Gallery's mission is to bring quality Fine Art to our community with good taste & family values. The artists are professionals as well as emerging new artists. The artwork is open to all Artist and chosen by a selection committee under the direction of Coordinator, Charlotte Rierson. Art Gallery hours are Mon.-Sat. 9:00-5:00 unless special events or conferences then the hours will be extended. The viewing of the Art is open & free of charge to the public. All art is available for purchase.
The NCA Art Gallery is sponsored by the North Central Arkansas Foundation for the Arts & Education (NCAF&E) and The City of Fairfield Bay. For more information contact NCA Art Coordinator, Charlotte Rierson: 501-884-6100, email [email protected] or Conference Center Directors, Wilba or Bob Thompson [email protected], for more information: 501-884-4202, 110 Lost Creek Parkway, Fairfield Bay, AR 72088.