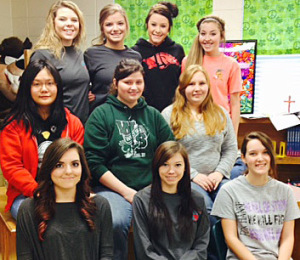 North Central Arkansas Art Gallery is excited to announce that the Greers Ferry West Side High School Art Class will be the guest artists thru April. These ten outstanding art students are under the instructions of Sandy Smith. One of the Art Gallery's missions is to reach out and encourage the emerging artist and creative youth.
Shown in photo:L.to R. top back row: Alexis Barnes, Sydnee Phillips, Karlye Cothren, Lexie Smith. Middle Row: Lui Yi Xu (Abby), Mary Clayton, Crystal Bles. Front Row: Alllison Carr, Wincie Noble, Meredith Clifton.
The NCA Art Gallery brings quality Fine Art to our community with good taste & family values. The exhibit features the following artists artwork: sculptor- Anne Mitchell; Stain Glass artists-Karen Gehl, Barbara Cornett, Collene Halldorson, Linda & Buddy Pledger; photographers Lee Phillips, Jennifer Juipers, Judy Duitsman, Brandi Vandygriff; 22 painters-Lea Berry, Julie Caswell, Jan Cobb, Joyce Hartmann, Dorothy Hendrickson, Jeanne Homuth, Bonnie Hookman, Ellen Kelly, Melva King, Sandra Marson, Charlotte Rierson, Pauline Sears, Doris Sexson, Carolyn Goettsch, Rebecca Loftis, Judith Beale, Joyce Hubbard, Fran Pattillo, Yun Kim, Gaylor Ryan, Michelle Bry, and Dianne Traylor.
The Art Gallery is open to all artists and is juried by a selection committee. All the artwork is available for purchase.
The NCA Art Gallery is sponsored by the North Central Arkansas Foundation for the Arts & Education (NCAF&E) in collaboration with The City of Fairfield Bay. For more information or purchase of Artwork contact NCA Art Gallery Coordinator, Charlotte Rierson-501-680-2741, email [email protected] or Fairfield Bay Conference Center Directors, Wilba or Bob Thompson-email: [email protected], 501- 884-4202, 110 Lost Creek Parkway, Fairfield Bay 72088.