Featured Artist, Sue Allen Pico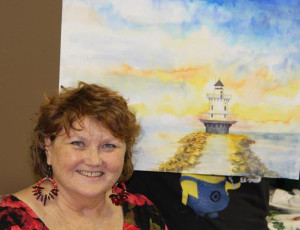 Sue Allen Pico is proud to support the Arts in North Central Arkansas and has had her artwork in the NCA Art Gallery in past art exhibits. A Summa Cum Laude graduate from Northern State University of Aberdeen, SD with a double major in Fine Arts and Cumulative Art Education, Pico is best known for involving children and adults with the arts in public and private schools, churches, and various other venues in South Dakota, Hawaii, Louisiana, and now Arkansas. Pico develops and teaches a variety of performing, visual, and language arts programs. She is currently a member of the North Central Arkansas Artist League, the Poets of the Lake, the Troubadours (a reader's theater performing arts group), spent 10 years as executive director of the North Central Arkansas Foundation for the Arts and Education, and is on the Artists in Education Roster for the Arkansas State Arts Council. Her personal art focus is watercolor, original Ukrainian-style egg designs, and "stick" & ink drawings. Her art reflects a cheerful outlook and the love of Christ. "Life is full of challenges; Art helps lift us above those challenges to encouragement and delight.
Please view her paintings and work in the foyer of the Conference Center as well as the NCA Art Gallery. The Conference Center is located 110 Lost Creek Dr., Mon. thru Fri. 9:00 am-4:00 pm.
CALLING ALL ARTISTS!!!
The North Central Arkansas (NCA) Art Gallery invites Painters, 3 Dimensional Artists, and Photographers to submit works for the Oct. 19 Art Exhibition in the Fairfield Bay Conference Center, 110 Lost Creek, Fairfield, Bay. The artwork is open to all artist eighteen years or older. Registration Forms are available at the Fairfield Bay Conference Center or e mail Charlotte Rierson, Art Coordinator [email protected]. Deadline for entry is Oct 12- Mail entries to Charlotte Rierson, P.O. Box 1643, Fairfield Bay, AR 72088, or drop off at the Fairfield Bay Conference Center.
We encourage you to see the beautiful artwork in the gallery. The Art includes paintings, photography, sculpture, fusion glass, stain glass, pottery, as well as other art forms. The NCA Art Gallery brings quality Fine Art to our community with good taste & family values. The artwork is open to all artists & is chosen by a selection committee under the direction of Art Coordinator, Charlotte Rierson. The gallery is free to the public for viewing. Art Gallery hours are Mon. thru Fri. 9:00-4:00 unless there are special events then the hours are extended. All the art is available for purchase. The NCA Art Gallery is sponsored by the North Central Arkansas Foundation for the Arts & Education (NCAF&E) in collaboration with The City of Fairfield Bay. For more information contact NCA Art Coordinator, Charlotte Rierson-501-884-6100, email [email protected] or Fairfield Bay Conference & Visitors Center Directors, Wilba or Bob Thompson for more information- 501- 884-4202, [email protected], 110 Lost Creek Parkway, Fairfield Bay 72088