Featured Guest Artist NCA Art Gallery – Mary Ann Stafford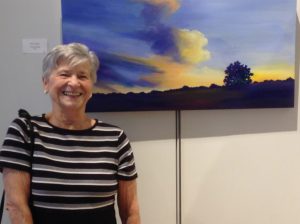 Mary Ann Stafford was born in Pine Bluff and received her early education at the Annunciation Academy until entering Pine Bluff High School in the 10th grade. She was always interested in the arts and when 16 she decided to concentrate on the visual arts. After graduation, she went to the Kansas City Art Institute to learn about drawing and painting. Later she had to come home and work to help support her family. Mary Ann married her boss and they had eight children. She received a BSE in English and took a position at Pine Bluff High School in the English department. She started an Art Club, and then received a grant from International Paper Company to begin an art department at the school. She began attending the U of A at Fayetteville and received a doctorate degree in Secondary Education with emphasis in Art Education. Her dissertation was an analysis of Arkansas art programs compared to the national standards. Mary Ann is now retired and lives in Maumelle. She has done independent work with Arkansas schools, took many art courses and workshops from nationally known art teachers, taught privately and at the Arkansas Arts Center, and entered and was accepted in many juried local, state, and national art competitions. She continues to teach at the Maumelle Senior Wellness Center and shows her work in galleries in Little Rock, Conway, El Dorado, and Eureka Springs. Mary Ann recently published a book of pen and ink drawings of 25 structures in the Argenta National Historic District of North Little Rock along with the historical and architectural facts of that area. Mary Ann wants her viewers to feel the serenity of nature as opposed to the fast, complicated aspects of modern life, assisting them in slowing down and really seeing the world around whether working in water media or pastel, her message is one of spirituality, peace, and hope. Mary Ann's inspiration comes chiefly from the rural scenes of Arkansas. Her style she calls "Romantic Realism" because of the emotional content. She says, "If my paintings cause others to feel an awareness of God's hand in creation, I have accomplished my purpose." More about Mary Ann go to http://www.staffordart.com.
This is Mary Ann's first time to exhibit at the NCA Art Gallery/FFB Conference Center. Artists selected to be in the new exhibit that went up Oct. 24 is the following:
Painters- Pamma Henderson, Ellen Kelly, Annette Garner, Sandra Marson, Cathy Wester, Susann Waggoner, Judith Beale, Dianne Traylor, Jan Cobb, Charlotte Rierson, Doris Sexson, Rebecca Loftis, Lea Berry, Kathleen Hadley,Joyce Hubbard, Joyce Hartmann, Julie Caswell, Pauline Sears, Bonnie Hookman, Gaylor Ryan, Nelson Scott, Yun Kim, Sue Allen Pico, Judy Shumann, Ann Snyder, Mary Ann Stafford; Photography- One Man Exhibit: Lee Phillips; 3-Dimensional Artwork- Linda Pledger, Barbara Cornett, Anne Mitchell, Karen Gehl.
About the North Central Arkansas (NCA) Art Gallery
The North Central Arkansas (NCA) Art Gallery's mission is to bring quality Fine Art to our community with good taste & family values. The artists are professionals as well as emerging new artists. The artwork is open to all Artist and chosen by a selection committee under the direction of Coordinator, Charlotte Rierson. Art Gallery hours are Mon. – Fri., 9:00-4:00 (unless special events then hours are extended). The viewing of the Art is open & free of charge to the public. All art is available for purchase.
The NCA Art Gallery is sponsored by the NCAF&E and the City of Fairfield Bay. For more information contact NCA Art Coordinator, Charlotte Rierson-501-884-6100, email [email protected] or Conference Center Directors, Wilba or Bob Thompson for more information- 501- 884-4202, [email protected], 110 Lost Creek Parkway, Fairfield Bay 72088.