Featured Guest Artist NCA Art Gallery – Photographer, Lee Phillips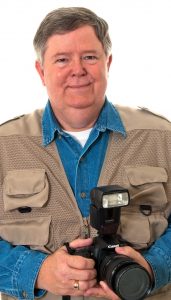 Lee Phillips is a retired high school Media Specialist from Florida who moved to Fairfield Bay in 2011. He now enjoys teaching digital photography classes as an Adjunct Instructor for Arkansas State University at the Fairfield Bay Community Education Center. His award winning photographs have been featured at four area exhibits and in numerous publications. Lee graduated with honors from the University of Central Florida with a BA in Educational Media, and the University of North Texas with an MS in Computer Education. He is a US Navy Vietnam Veteran, a founding member of the Fairfield Bay Photo Club and a member of the Photographic Society of Northwest Arkansas. Lee is also a published poet and author. His works can be viewed at his website www.leephillipsphoto.com
Other Artists exhibiting artwork in the new exhibit are the following: Painters- Pamma Henderson, Ellen Kelly, Annette Garner, Sandra Marson, Cathy Wester, Susann Waggoner, Judith Beale, Dianne Traylor, Jan Cobb, Charlotte Rierson, Doris Sexson, Rebecca Loftis, Lea Berry, Kathleen Hadley, Joyce Hubbard, Joyce Hartmann, Julie Caswell, Bonnie Hookman, Nelson Scott, Yun Kim, Sue Allen Pico, Judy Shumann, Ann Snyder, Mary Ann Stafford; Photography- One Man Exhibit: Lee Phillips; 3-Dimensional Artwork- Linda Pledger, Barbara Cornett, Anne Mitchell, Karen Gehl.
About the North Central Arkansas (NCA) Art Gallery
The North Central Arkansas (NCA) Art Gallery's mission is to bring quality Fine Art to our community with good taste & family values. The artists are professionals as well as emerging new artists. The artwork is open to all Artist and chosen by a selection committee under the direction of Coordinator, Charlotte Rierson. Art Gallery hours are Mon. – Fri., 9:00-4:00 (unless special events then hours are extended). The viewing of the Art is open & free of charge to the public. All art is available for purchase.
The NCA Art Gallery is sponsored by the NCAF&E and the City of Fairfield Bay. For more information contact NCA Art Coordinator, Charlotte Rierson-501-884-6100, email [email protected] or Conference Center Directors, Wilba or Bob Thompson for more information- 501- 884-4202, [email protected], 110 Lost Creek Parkway, Fairfield Bay 72088.