Featured Guest Artist NCA Art Gallery – Caren Garner thru Oct.
North Central Arkansas Art Gallery located in the Fairfield Bay Conference Center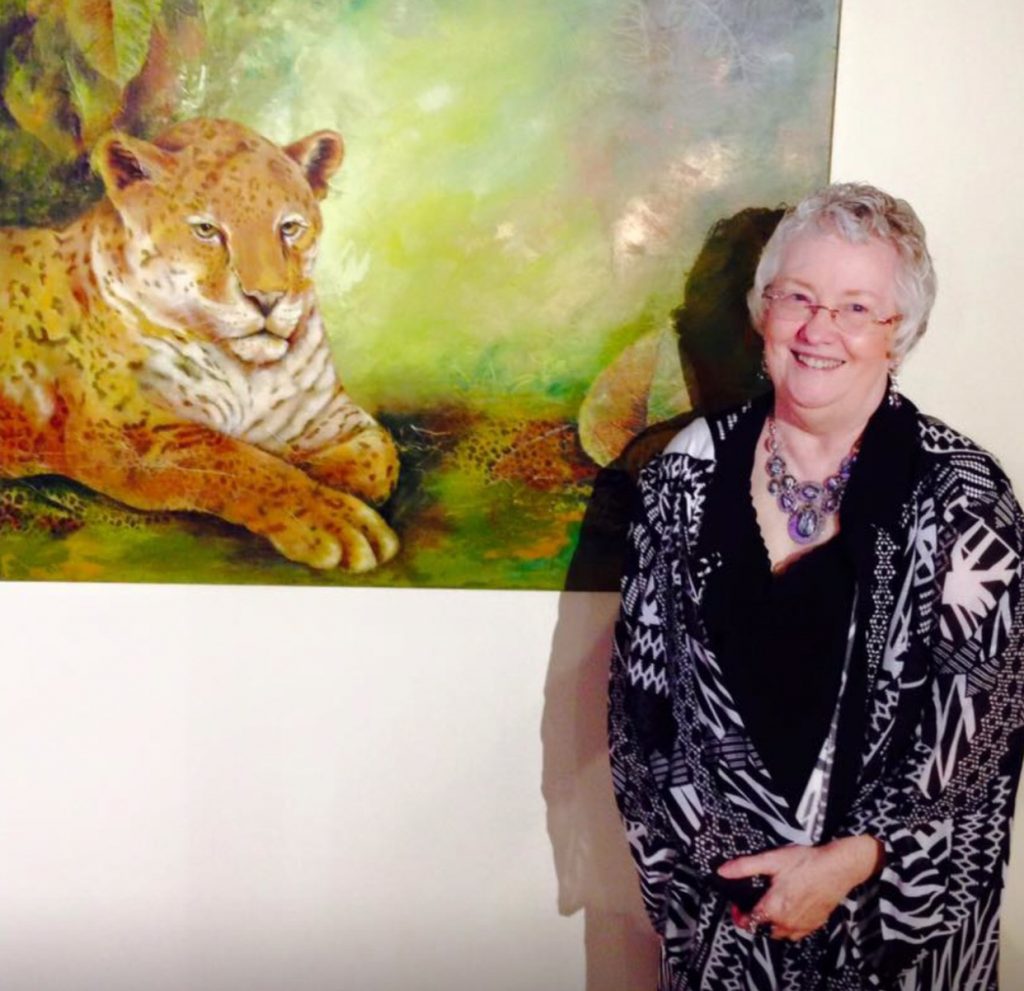 Caren Garner has been painting for more than 30 years. She has studied with numerous artists in workshops and classes both in Arkansas and during her stay in Washington DC. Her work is on display in both private and corporate collections around the country, including work done for Walter Reed Army Medical Center and a beautiful patriotic mural on the Palliative Care Unit at the John L McClellan VA Medical Center in Little Rock. Caren has also done murals for several Little Rock restaurants; she teaches art and is a member of the Conway League of Artists and Mid-Southern Watercolorists. She is also available for floral design, faux finishing and interior design work.
Caren's work has won numerous awards and she is currently represented by Butler Center Galleries in Little Rock.
A lover of experimentation, Caren does experimental and non-objective work in watercolor, acrylics, mixed media and collage and is currently using a lot of textural elements. A favorite subject is wildlife, especially African wildlife. She is also adept in a variety of work including florals, landscapes, portraits, and abstract/non-objective work. Her goal is to share her passion, energy and love of art in her work.
Caren is a mother of two children and MiMi of eight grandchildren. She is a retired Craft Care Specialist of Help Hospitalized Veterans and has enjoyed many years of sharing her love of both arts and crafts with our veterans at our VA hospitals in Little Rock, North Little Rock, and at Walter Reed Army Medical Center, Washington DC. Caren retired in 2013 and moved back to Conway, AR and is looking forward to having more time to devote to making and teaching art.
Caren will be teaching an art workshop for the Arkansas Artist League in Fairfield Bay. Oct. 27 & 28th. If you want more information about the workshop call 501-884-6652.
About the North Central Arkansas (NCA) Art Gallery
The North Central Arkansas (NCA) Art Gallery's mission is to bring quality Fine Art to our community with good taste & family values. The artists are professionals as well as emerging new artists. The artwork is open to all Artist and chosen by a selection committee under the direction of Coordinator, Charlotte Rierson. Art Gallery hours are Mon. – Fri., 9:00-4:00 (unless special events then hours are extended). The viewing of the Art is open & free of charge to the public. All art is available for purchase.
The NCA Art Gallery is sponsored by the NCAF&E and the City of Fairfield Bay. For more information contact NCA Art Coordinator, Charlotte Rierson-501-884-6100, email [email protected] or Conference Center Directors, Wilba or Bob Thompson for more information- 501- 884-4202, [email protected], 110 Lost Creek Parkway, Fairfield Bay 72088.