Featured Guest Artist NCA Art Gallery – Artist Annette Garner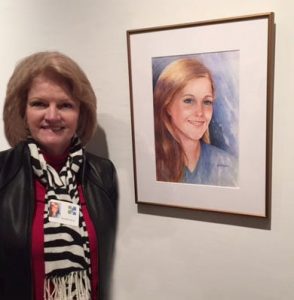 January feature artist, Annette Garner lives in Little Rock. Each month the North Central Arkansas Art Gallery features artists that are exhibiting their artwork. There are painters, photographers, sculptors, potters, stain and fussed glass artists. The artwork is open to all professional as well as emerging artists. They are chosen by a selection committee under the direction of the Art Gallery coordinator, Charlotte Rierson. The Art Gallery artists are from Fairfield Bay, Shirley, Edgemont, Greers Ferry, Clinton, Choctaw, Quitman, Cabot, Jacksonville, Maumelle, Conway, Mt. Vernon, Mountain View, Heber Springs, and Little Rock.
The Gallery is so pleased to have Annette Garner exhibit her paintings in the Art Gallery for the first time. Annette Garner, a native of Hope, Arkansas. She is an award-winning artist that includes four Best of Show awards. The watercolor "Just a Cold and Lonesome Cowboy" was published in the 2008 Arkansas Governor's Art Calendar. In 2009 the watercolor "Stalking Tiger" was selected for display in the Arkansas Governor's Mansion. A self-taught artist, Annette has attended workshops by nationally recognized watercolorists. Annette is a signature member of Mid-Southern Watercolorists. She serves as President-Elect of Mid-Southern Watercolorists, as well as, President of the Art Association of Central Arkansas. She enjoys painting all genres and loves to creatively capture a likeness in portraits. Portraits of a brother and two granddaughters were selected for inclusion in previous Mid-Southern Watercolorist art shows. Her oil paintings in the exhibit "He Lives" was inspired by a three year thought process. She stated, "The painting chose me and I had no peace until I painted it." Using a close focus and illustrating the hands to be either gender, enables the viewer to feel the agony of the crucifixion. The oil painting "Big Buck" was inspired by her family of deer hunters. An avid deer hunter, Annette's husband served as the expert consultant ensuring accurate details. "Red Sail" and "Seascape" reflect a love of the sea. While the "Elvis" portrait stems from a life-long regard for the "King of Rock and Roll". Creative expression through painting continues to be an area of excellence for this artist.
About the North Central Arkansas (NCA) Art Gallery
The North Central Arkansas (NCA) Art Gallery's mission is to bring quality Fine Art to our community with good taste & family values. The artists are professionals as well as emerging new artists. The artwork is open to all Artist and chosen by a selection committee under the direction of Coordinator, Charlotte Rierson. Art Gallery hours are Mon. – Fri., 9:00-4:00 (unless special events then hours are extended). The viewing of the Art is open & free of charge to the public. All art is available for purchase.
The NCA Art Gallery is sponsored by the NCAF&E and the City of Fairfield Bay. For more information contact NCA Art Coordinator, Charlotte Rierson-501-884-6100, email [email protected] or Conference Center Directors, Wilba or Bob Thompson for more information- 501- 884-4202, [email protected], 110 Lost Creek Parkway, Fairfield Bay 72088.