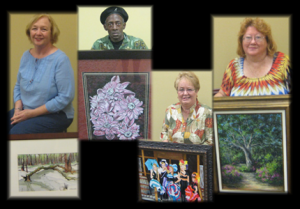 There's some incredible local art talent at the North Central Arkansas (NCA) Art Gallery, located in the newly opened Our Towne Conference & Visitors Center. The art gallery is show casing 32 artists throughout the exhibit. The feature artists this issue are Connie Hood, Julie Caswell, Ellen Kelly, and Van Swink. These Artist are available to give art tours and answer questions. If your group would like to schedule a tour please contact our Directors Bob & Wilba Thompson.
Connie Hood
Connie moved to Fairfield Bay in 2005 from Austin, Texas to be closer to her four grandchildren in Memphis.  She has lived in eight states and the territory of Guam and traveled to Spain, Italy, France, Switzerland, and Mexico with her husband Steve during his Naval career.  Since early childhood she has pursued her interest in fiber and visual arts at every opportunity.   After ten tears of decorative painting on furniture and murals, she turned her attention to landscapes and floral painting after her retirement from the floral industry.  She paints primarily in acrylic and watercolor. She has been a member of North Central Arkansas Artist League for eight years serving as vice-president and president.  She is a board member of The North Central Arkansas Foundation for Arts & Education.
 Julie Caswell
Julie is A Memphian from birth, Julie graduated from the University of Memphis with a Bachelor of Fine Arts and a Master of Science.  She taught Art K – 12 and finished her career as a K – 12 Guidance Counselor in various Memphis area schools.   Art has always been a big part of Julie's life. She was a member of several art clubs in high school, and she enjoyed passing on her knowledge to those she taught. She finds inspiration all around, seeing beauty in everyday shapes, objects, and people.   Julie finds joy in spending time with her husband David, their family of five kids and six grandkids, and of course their beloved pets Flurry and Rags.  She is also an active member of the Quitman United Methodist Church.
Ellen Kelly 
Ellen is a Kansas native and an Arkansas transplant since 2005.   She has studied art since the age of 4 and won her first art competition at age 8. She continued her artwork by teaching herself to paint. She considers herself as an "illustrator" of what she sees in our world.  Her oils are "realistic" and from an Old Master style since she likes detail and precision, Acrylics and watercolor round out other mediums used in her artwork.  The interaction with fellow artists gives her a forum for expression in the arts.  Likewise belonging to Arkansas Artist Registry keeps her posted on competitions all over the United States.
Van L. Swink, Jr.
Van is self-taught. He is a veteran of many juried art competitions. . He works in many different mediums and does many different subjects. His most recent works have been in pastels and markers. He just finished a 9 ft by 26 ft mural of the Grand Canyon with hidden animals, people and objects.
The Art Gallery is open to all artists and is juried by a selection committee.  All the artwork is available for purchase.
The NCA Art Gallery is sponsored by the North Central Arkansas Foundation for the Arts & Education (NCAF&E) in collaboration with The City of Fairfield Bay. For more information or purchase of Artwork contact Our Towne Conference Center Directors, Wilba or Bob Thompson-  501- 884-4202, 110 Lost Creek Parkway, Fairfield Bay 72088.