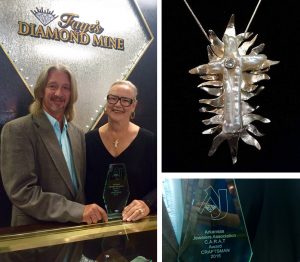 We are honored to announce that a one-of-a-kind jewelry design from Faye's Diamond Mine has just received the Arkansas Jewelers Association's 2016 Craftsmanship Award at the state convention in Little Rock on Saturday, Aug. 6!
The award-winner, a mother-of-pearl cross pendant set with a round brilliant diamond in a gold bezel, and hand-finished yellow gold flames, was designed by Faye Rodgers and intricately fashioned by our very own master jeweler, Mark Lutz. We are very proud of his outstanding work and the talent he brings to our store in the fields of jewelry craftsmanship, design & repair.
Don't forget – this month (Thurs. Aug. 25) we're having a special in-store event to introduce our new custom design center! Meet the award-winning designers on our staff and chat about jewelry design, the art & science of bench work, and creative ways of re-purposing your jewelry into something new and unique!
Faye's Diamond Mine is a Master IJO Jeweler offering quality jewelry & gifts, on-location repair, design & appraisal services, and more to Clinton & the surrounding areas for 28 years & counting. See more at www.fayesdiamondmine.wordpress.com.