Owner, Faye Rodgers, first opened the store in 1988 and over the years has received a large number of prestigious awards for business, service, and design. Her daughter, Manager Lori Blagg, is one of only 14 Master Graduate Gemologist Appraisers in the nation and has been with Faye's since 1989.
From its original 400-square-foot location, Faye's has since expanded to a chic 2,500-square-foot showroom of jewelry & gifts, and an in-house bench repair center.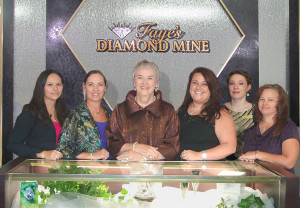 Faye and her staff are proud of the many achievements in 25 years as a Master IJO Jeweler, a status consistent with the highest standards of products & service in the jewelry industry. Their accolades include "Best Family Diamond Store" and the coveted "Superlative Design & Innovation Award" – both national recognitions. Most recently, Faye's was awarded the Clinton Area Chamber of Commerce's "Business of the Year" Award in acknowledgment of its long-standing role in the Clinton business community.
Friend and former mayor, Don Richardson, called Faye his "entrepreneurial hero" as he presented the award at the Chamber's annual banquet in March. "It's such a testament to Faye and the business she has built," Lori said at the awards ceremony. "She started Faye's Diamond Mine 25 years ago and has been an exceptional part of the community ever since."
Faye's Diamond Mine specializes in fine diamonds and a variety of fine jewelry items. They also offer services such as jewelry repair by a certified bench jeweler and custom jewelry design, as well as a full-complement bridal & gift department.
Faye and Lori's extensive travels with IJO have offered unprecedented opportunity for gemstone buying. Their partnership with the Antwerp Diamond Broker Program takes them to the world's diamond capital to hand-select diamonds from the most experienced diamond cutters, enabling them to offer world-class selection to their customers.
The year's anniversary celebrations will culminate in a grand "Half-Off Half the Store" Sale, a 3-day event September 19-21. You can keep up-to-date with the latest news & events from Faye's Diamond Mine through their website, www.fayesdiamondmine.com, and their active social network.