by Fred Hilsenrath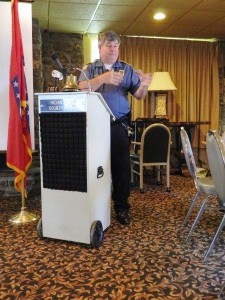 Today we had the pleasure of listening to our Fairfield Bay Chief of Police, John Willoughby. Chief Willoughby was born and raised in Van Buren County and has been in law enforcement since Nov, 1998 and our Chief of Police for the last three years. John has been married to his wife, Debbie, for 15 years and has three children and two grandchildren. In his career in Law Enforcement, he has been a Deputy Sheriff, domestic violence officer, a K-9 officer for the city of Clinton and a DTF agent for the 20th Judicial Drug Task Force.
The Fairfield Bay Police Dept. has 6 officers overlooking our safety. Chief Willoughby told us their police department was eagerly awaiting the last few years to attain the reputation as the best in Arkansas and they achieved that honor. Our Police Dept is also on very good terms with all neighboring police depts. in our county and throughout Arkansas. He admits the dept is understaffed and depends to some extent, on additional donations. Recently, the department received three tasers and 4 cameras to assist the officers in their work. The police office is open 24/7 and with their open door policy can be reached at 501.884.6005 any time. Chief Willoughby is assisted by Sergeant, David Burnett, Lead Investigator, Chris Waring, Training Officer, Ray Dearmon, Officer Mark Roddenberry and Officer Donald Crispell. Chief Willoughby said, "Indeed we in Fairfield Bay are blessed to live in this community."
As an example of the pleasure of living here, I want to tell a funny story of the first week Eleanor and I moved to Fairfield Bay. I went to our pharmacy to get some medication. Wilma was just getting my bill when I felt somebody touching my shoulder. I turned around and there was a police officer looking at me severely and asking me whether that mustang in front, with a California license plate, was mine. "How, he asked me, did you get through the road block?" I was a bit flabbergasted but also noticed Wilma and the pharmacist chuckling while looking at me. I suddenly realized there was a joke somewhere; thus I answered "I probably got through the road block because of my German accent." Very good answer the officer said. "And did you know we don't allow Californians to come to our beautiful state?" Now everybody was laughing and Officer Murphy shook my hand to welcome us to Fairfield Bay. Now this was a friendly welcome combined with humor. Chief Willoughby is right. We live in a blessed community.