Fred Hilsenrath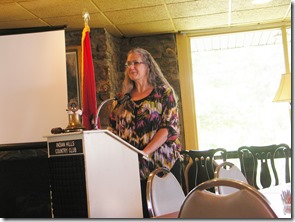 Every once in a while we welcome a new member to our Rotary Club. We'll use the opportunity to introduce Michelle Davis to our community. Michelle is the new Branch Manager at Fairfield Bay's Eagle Bank.
Michelle is from Memphis, TN. She moved to Greers Ferry in 2008. She is married to Michael Davis. They have two children, Amanda, age 26 and Katie, age 9. (yes 17 years apart! ) Michelle has one older sister who ,with her family, are missionaries in Brazil. She also has one younger brother. Michelle was a PK, which means preacher's kid. Her father started the Briarcrest Christian school system in Memphis, which at one time was the largest private school system in the country. One of her favorite things to do is to go out on the pontoon boat and relax on the lake. She enjoys her work as manager at the Fairfield Bay branch of Eagle Bank and Trust and is also a proud member of FFB Rotary! Michelle's number: 501-884- 6501.
We at Rotary are always happy to receive new members, we need them, our students need them for scholarships and educational encouragement and our club needs as many members as possible to allow us to support so many worthy projects around the world. Rotary really is a two way street; Rotary members help the world to solve problems but Rotary members get a feeling of satisfaction knowing they are taking action to improve our world and decrease suffering. Rotary members stay with us for a long time. Members are with Rotary until either they move away or are get too old to participate. I have been with Rotary since we moved here from crowded CA in 2004. We love it here and enjoy our Rotary Club as a useful activity and very enjoyable social environment. Fairfield Bay residents: COME JOIN US !
Call my number: 501-253-7171.