by Fred Hilsenrath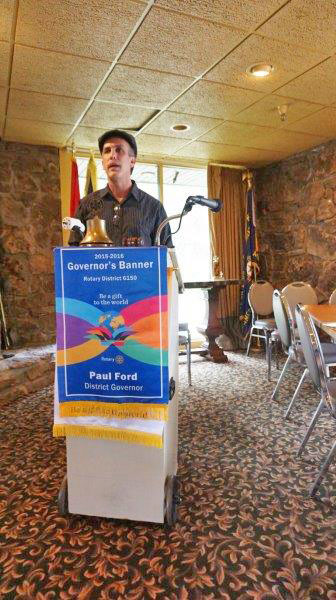 In the past, Jackie Sikes told us about her and her husband, Sean's, market. It is a combination business and community service.
This time, Sean gave us a view of the Dirty Farmer's activities. It is always encouraging to hear when our residents are trying tohelp people in need as well as provide a useful shopping experience.
Sean Sikes, the produce manager for the Dirty Farmer's Community Market, shared with us the new activities that the Market has been doing to support their community.
Their efforts include providing a yearly Farmer's Market for Clinton while running the Greater Good Cafe that allows patrons to eat what they need and pay what they can. They have also joined with the First United Methodist Church in Clinton, the Arkansas Hunger Alliance, and the Health Department to provide fresh produce to the Food Banks and Hospice patients with the Health Department.
In efforts to provide more fresh produce to the community, they are launching an online platform through "Locally Grown," to enable the purchase of fresh produce during the growing season.
The Market has operated as a non profit to address food insecurities in the community for the last three years. Their efforts may be small, but do not go unnoticed. They are planning a community event that involves both Fairfield Bay and Clinton in a flag football game between the two communities. Mayors of both cities will be team captains along with a halftime show presented by cheerleaders of days past.
This fundraiser will be held September 10 at the Clinton High School football stadium. The fundraiser is held to raise money for the market to support their "Seed to Seniors" program.
Sean has served as Market manager for the past three years. His previous employment has included a career as a private investigator, an emergency medical technician, and in hotel management. How did he wind up being a farmer in a non profit charity? It's an interesting path he has taken. Stop by the Market to visit with him to find out!
The Dirty Farmer's Market is located at 364 Main St. Clinton. They can be reached at 501.253.4716.