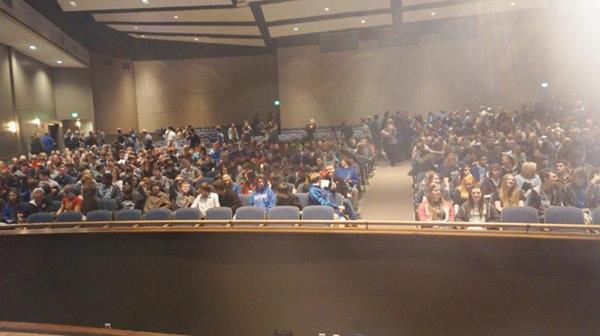 I had the pleasure of addressing the Greenbrier High School as well as the Clinton High School students about the Holocaust and the connection, I see, to education. Rocky Nickels, also a Rotary member and the Fairfield Bay financial officer at our Community Club arranged a talk to all the students of the Greenbrier auditorium where principal, Steve Landers, and Rocky Nickels, introduced me with kind words. Rocky's son, Manny, is a student in Greenbrier.
The town of Clinton also had a Memorial Day for the American soldier, C. G. Bolden, killed in North Korea whose body was returned to Clinton after all these years. Mayor Richard McCormack, the mayor of Clinton, lead the ceremonies at the Clinton High School auditorium. I was invited to talk about the Holocaust, another war event, where our two mayors, Paul Wellinger and Richard McCormack, introduced me. I always thought that for our students today, World War II is ancient history, yet they all listened attentively. For some of us, particularly Jews, it was a nightmare in Nazi concentration and extermination camps. I told the students about our fears, starvation and diseases. However in my case there was a silver lining to these memories. We got imprisoned in an old, mostly destroyed town in the Ukraine. We found shelter in a partically burntout Russian school building. Among 20 of us in one room, there were science and math high school professors. There we called them professors, not just teachers. Even if death was most likely around the corner and work to keep ourselves alive kept us busy, professor Deutsch and I found the time to study math and physics. On one particular day he gave me a geometry problem to solve. It gave me something to think about in spite of gnawing hunger. I showed him the solution the next day. Professor Deutsch turned around to my grand-father and said, "If this boy manages to survive he must become a mathematician or engineer." That was the seed that guided me through life after I survived. I wanted the students to know that even in the worst environment one can enjoy knowledge. "Every student in this auditorium," I told them, "has a spark in his or her soul and it is up to the student to find it." To identify that seed a student needs to do well in all subjects so he or she can accept or reject a possible choice; not because of failure or success to pass the class, but because of the recognition of the mental and emotional connection to the subject.
There are a few simple study habits that allow a student to excel in school. When the teacher tells a class that a particular chapter is coming up in the next class session, that chapter should be read ahead of the lecture. There usually are a few paragraphs that are puzzling. With that in mind, questions can be prepared for the next class; when the teacher talks about difficult to understand subjects it may answer the uncertainty. Without the question it may remain 'not understood.' It is difficult to do the homework problems and leaves the student with a feeling of failure; worse than that, the conclusion may be that it is not a favored topic and you may have missed your own spark. No answer will stick in the students mind unless there was a question. The difference between an A student and a C student is having read the chapter ahead of the lecture and coming to class with questions. "Your teachers," I told them, "are trying hard to get you to become, not only educated, but also a thinking person. Your education prepares you to differentiate, in our political world, for example, between a real leader and a demagogue like Adolf Hitler. Your generation can make sure that another holocaust, against whatever victim, will not re-occur and that our hard earned freedom in America will continue." It was gratifying for me to see a real listening student-body.