by Fred Hilsenrath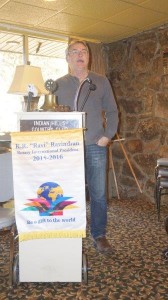 Greg Duggan told us about his and his and his wife, Lisa's life accomplishments and move to Fairfield Bay. They moved here last year from Flower Mound, a suburb of Dallas. They have been married for 33 years and have a son, Steven, now graduated from the University of Oklahoma. Greg and Lisa visited Fairfield Bay in 1986 and are now here permanently. Greg retired from the grocery business after 22 years and Lisa left occupational therapy to start a new business., Crown Trophy. They sold their business to their manager of 12 years last Jan. and have been members of our Rotary club since last year.
Lisa and Greg opened the Crown Trophy business in 1999. They both had successful corporate careers but always wanted to have their own business.
Greg spoke about how they decided on the awards business. It was scary to leave good paying jobs and security to open up your own business. They went through entrepreneur magazines for months looking for the right business.
The trophy awards business fit the neighborhood demographics. They had a lot of sports in their area, a lot of corporate headquarters in the Dallas area and some very large school districts. In order to alleviate some stress, Lisa opened up the franchise while Greg continued to work. She built the operation while Greg would market to customers during the evening hours and on his day off. After two years, they felt like the business would be successful and Greg finally retired from his career. With their past experience of customer service and work ethic they were able to grow the corporate and sports business by double digit increases almost every year for 15 years. From April to June the shop would produce 2,500-5,000 trophies per week along with hundreds of plaques, glass awards, and promotional products. They produced the plaques that you see throughout the Conference Center in Fairfield Bay.
After they finished, their shop was in 3rd place in total revenue out of 145 franchise stores in the country.
Here I want to add my comment: I want to mention my inability to have ever undertaken a business effort. As a Jew, I should have an inborn talent for business. It turns out I can not even sell a Dollar bill for 50 cents. I admire your and Lisa's patience and correct business foresight to have succeeded.