by Ralph Nollenberger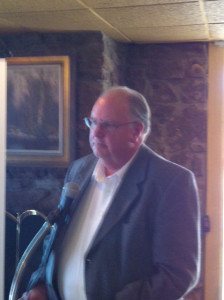 Living day- to- day is not often an exciting experience. It's interesting to see what a new day brings, but mostly, it is just more of the same. Historical condensation, however, puts a new perspective on past events. While speaking to our club today for a half hour, Judge Roger Hooper caused me to reflect on our local history with those thoughts. Van Buren County has suffered economic calamities over the past five years. There was the tornado that destroyed Clinton's boat manufacturing plant and caused considerable damage to other property. The closing of the chicken processing plant and a plastics manufacturer further aggravated the economic base of Van Buren County. Unemployment sky rocketed. Economic depression was upon us. Pretty dramatic stuff, historically speaking, even for us retired folks in the Bay.
Since those dark days, the economic picture for Van Buren County has brightened. Judge Hooper outlined the economic progress over the years. First, and perhaps foremost, 2012 has seen an 18% increase in natural gas drilling and has had powerful economic consequences for the county. The additions to the medical center have further improved the economic outlook for the county. The development of The Hans Martial Arts Center will add 60 million dollars and 140 jobs to the economy. Home sales and new home construction is up. Tourism is the best since 2006. Global Foods will invest 4.7 million in remodeling a plant and will initially employ 50 to 70 people and will possibly grow to employ 225 people. Unemployment has decreased from 12% to 8%.
Judge Hooper is responsible for county roads. He outlined the considerable improvements made to gravel, asphalt and chip and seal roads. For those of us heading north on US 65, Roger pointed out that paving Lynn Creek off 110 to Dennard will save 5 miles. It's interesting that over the past 10 years the county budget has increased from 1.4 million to 4.6 million. Roads are the best they've ever been.
As asides:1) Judge Hooper lamented the fact that elections are held every 2 years by state law. He finds them to be expensive, disconcerting and time consuming. Things would be much better if office terms were for 4 years.2) He's running a balanced budget. 3) He keeps the community informed through newsletters, radio and addresses such as this one.
Judge Hooper's Power Point presentation kept his Rotary audience attentive and involved. He did NOT just read to us but expanded on the topics in his presentation. For me, Judge Hooper made 5 years of history and many years of projection an exciting and optimistic vision. We Rotarians thank him for his public service.
Fairfield Bay Rotary /by Fred Hilsenrath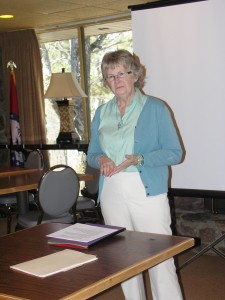 Sherry Guess, Director of the FFB Community Education Center, was the guest speaker for our group on Wednesday, March 6. Sherry shared a few background facts about her family, including 6 children and 7 grandchildren so far, some past career elements such as cosmetologist, and credit and collection analyst, describing herself as a tumbleweed, going where she was called and doing the task at hand to the best of her ability.
Sherry became the Director of the Ed Center in January, 2013, and has made a concerted effort to form a database to contact all those who have ever attended the center via email, sharing the course schedules and a few updates as things change. She asked us for our input by completing a brief questionnaire about our experience with the Center, and asking for our ideas to help expand the base of potential students, instructors and volunteers.
Sherry is interested in finding venues to speak in detail about the Education Center, both inside the Bay and in the surrounding communities. She pointed out that anyone can get on the email list and begin to receive course listings at least several weeks prior to the start of the new course offerings. She also invited us to come by the school in the Village Mall for a tour or to receive answers to individual questions and concerns. There is a degreed teacher, funded by Van Buren County in the school each Thursday from 2:30 to 7 p.m., eager to help anyone who needs assistance, either in obtaining a GED or doing some brush up work in Math, Science, or other areas in order to take college placement testing or obtain recertification in a formerly held degree.
The Education Center is a great asset, enriching the lives of residents and visitors alike, catering to our Wyndham timeshare visitors with a host of "In A Day" classes in several arts and crafts, some basic computer classes, tips and tricks of mastering surfing the 'net, taking better photos or enhancing those we've already taken. The classes range from 2 to 4 hours long and are open to all and reasonably priced. In assisting with efforts to attract new residents to choose Fairfield Bay as a great place to live or vacation, The Comm. Ed Center needs to expand our base in order to continue and even improve the level of service provided.
Sherry also suggested we list subjects of interest the education facility might offer or anyone who is interested in teaching a subject. We do have well educated residents in our community who could participate. Having a well-rounded education program in our neighborhood is an exciting addition to our already beautiful Fairfield Bay.