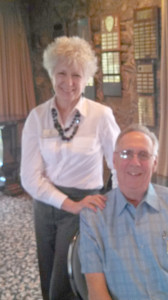 Priscilla Pittman, from Little Rock, is the program Director of the Alzheimer Programs of Arkansas . She talked to us about the serious problems patients and their families have and how to give help. Priscilla is a Gerontological Social Worker, having received her BA from Louisiana Tech University in Sociology as well as a master's degree in social work.
Priscilla was born in Minneapolis, grew up in Texas, California and Louisiana. She has three children and ten grandchildren.
She talked about caregivers and what they can do. Cargivers may be caring for a parent, spouse, child, sibling, neighbor or friend who needs assistance around the clock with activities of daily living. other caregivers may be employed outside of the home and spend their at home time providing care. Still others may alternate care with a caring group of persons willing to participate. This may be a lifetime role or the person may have been given a terminal diagnosis and the role may be for a shorter period of time.
Caregivers are usually lonely and isolated by their role. The job is awesome. There are over 54 million caregivers in the USA, providing home care services for individuals needing care outside of residential care facilities.
In the beginning, it is necessary for the caregiver to learn about the desease, illness or condition of the person receiving care. Visiting the physician with your care-recipient is a good way to learn what you need to know. Look at the big picture, understand the desease, its progression and what the two of you can expect over time.
Knowledge is power. We need to gain a greater understanding of aging in place, the care provider, care recipient, resources, community problem solving to increase self-reliance. [SIC]
George Kelly, from Greers Ferry, organized an Alzheimer Walk on Sept 14 at 8.30 a.m. The Walk starts at the Woodland Mead Park in Fairfield Bay. For more info call George Kelly on 501.253.1716.