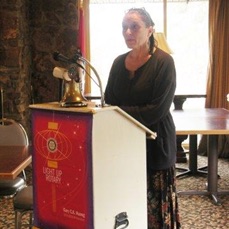 A warm welcome was given to Jackie Sikes, Director of the Dirty Farmers Community Market, Jackie talked to us at the Rotary Club about her various interesting projects.
Jackie has lived in Van Buren county now for 12 years. She opened the market in May of 2013. Last October she added the Greater Good Cafe. Jackie never thought she would be doing this type of work but she can honestly say being the Chairman of the board for such a great Non profit organization and the Market manager is the best job she have ever had! Jackie feels blessed to have two of her children and 7 of her grandchildren living in Arkansas and gets to see them as much as possible. Jackie and her husband Sean have been married for 11 years and they are celebrating by extending the market to the park this April.
Jackie shared the new ways of their non-profit organization which is reaching out to the community. The market has partnered with a well known herbalist, Elle D'Coda, to provide an online herbal academy at ozarkherbalacademy.org and offers hands on herbal workshops monthly at the market. Another recent addition is a small stage that was placed in the Grater Good Cafe to support local artists on Friday nights. A local craftsman, Jim Adams, built and donated the stage for this cause and joined Ms. Sikes to share his story of what the market has meant to him. Last but not least was the announcement of the financial support given to the market by the Advertising and Promotion Commission in Clinton to expand the market to the city park every Saturday from 7 a.m. to 1 p.m. beginning in April. City officials agreed that a community market in the park would be a good choice to promote tourism and provide both farmers and crafters in the county a great location to set up. Applications to participate are now available. Volunteers are needed at the market. For more information, please call, Jackie Sikes, 501-253-4716 or stop by the market from 9-4 Monday through Friday at 364 Main street in Clinton.