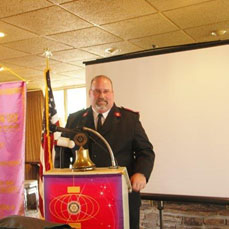 David Robinson spoke to us at the Rotary luncheon. David is a major in the Salvation Army. He grew up in Davenport Oklahoma. While in High school he worked in oil fields and after graduation attended Jr. College in Oklahoma. For the next 5 years David worked for Ford Manufacturing for 8 years and another 5 years for Kwikset also in Oklahoma. He started working for the Salvation Army full time in Bartlesville OK and finally went to college in Atlanta Georgia for Salvation Army officer training and was commissioned as a Lieutenant. After several moves David came to Conway in 2013 and was promoted to Major in 2014
David has served in disaster work for several of years. He served in Katrina, Rita, Ike, and many tornado and small hurricanes. David and the Salvation Army are still we in recovery mode in Faulkner County serving Vilonia and Mayflower Communities. David is married to Joanna Robinson, has a daughter and a son and a 2 year old grand-daughter; also expecting a grand-son. He is married for 30 years and loves spending time with their grandchild Laila. He loves playing golf and take beach vacations, spending time with family and friends. They love talking about what the Lord has done for them and letting people know what God can do for them.
David loves telling the story of The Salvation Army.
He spoke on the activities of the Salvation Army here in Conway serving 4 counties Faulkner, Perry, Van Buren and Cleburne. They help with utilities, rent, medication and food.
they give out about 150 food boxes per week. They help with other services until they reach their budget each month of $1500 to $1800. They help up to $150 per family with rent or utilities. They do spend more if the situation requires. They work with several other agencies in our community to help make their money last longer. The Salvation Army was founded officially in London in 1865 and is now celebrating 150 years.
The Salvation Army is doing fine work in supporting people and families in need and as such deserve our support.