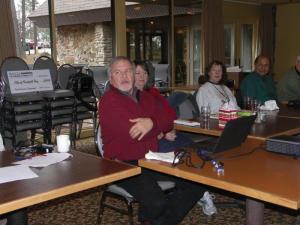 Tom Tangen was our speaker at the January 7, 2014 Rotary meeting. Tom is a local environmental engineering consultant who specializes in dealing with environmental issues and permitting for natural resources companies, including mining and oil and gas clients. He delivered a talk entitled "Fraccing and Your Drinking Water". Some of the presentation was drawn from his experiences and background, but a large part of the discussion centered around information that any of us can be research locally and through the internet.
Tom discussed in general the fraccing methodologies in use in the Fayetteville Shale and other unconventional shale plays across the US, and how our State, Federal, and local agencies review and permit these activities. He discussed the Arkansas regulations governing gas exploration, well development and production are protective of the environment, especially with regard to pit construction and well casing installation. The presentation went on to cover topics including frac fluid constituents and a high level overview of the geology in the Fayetteville Shale area and the surrounding area. He also reported on a recent visit to the Community Water System treatment plant in Greers Ferry. Tom was impressed with the plant and the professionalism of the people managing and operating the facility. It was reassuring to learn that the ongoing quality of our water supply is being watched over by competent and caring local people working in cooperation with the EPA, Arkansas Department of Health and others. Lastly, we learned that the United States Geological Survey worked in conjunction with our Arkansas university system, the Arkansas Natural Resources Commission, the Arkansas Oil and Gas Commission, and the Shirley Community Development Corporation to conduct testing and analysis of water wells in the Greers Ferry Lake area that was focused on determining whether there are any data to suggest that impacts to the groundwater (and by connection, Greers Ferry Lake) could have occurred from fraccing or gas production in the area. Tom reported that as of the 2011 report he reviewed, indications were that there were no impacts to local wells that were attributable to gas production activities. If anyone is interested in discussing this topic further or following up on the research Tom did to prepare this talk, data sources are available from him at 505-884-6648.
The above lines are the facts that Tom shared with us. Tom gave us a clearer picture than we had before his talk and are glad to hear that our water system is not endangered. I would like to add some of my own thoughts: There are 'fors and againsts' in that issue. Most of us have an opinion what should or should not be, how to approve or oppose fraccing. The supposed negatives of fraccing are possibility of earthquakes, possible pollution of our lake and water systems. In some of these issues the jury is still out. If we don't do fraccing now and do not use our own oil then we can save our energy for a time when oil around the world is depleted and we have our own reserves. The positive of fraccing is oil and gas independence which implies that we do not have to play the Mid East political energy games and not send billions to foreign countries.