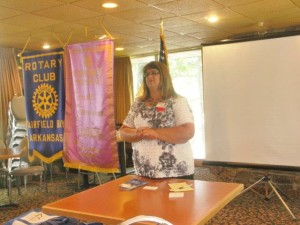 About two month ago my back was operated on. After I returned home I had the privilege to be looked after by the home health-care service and Pamela Leal is the head-nurse in our area. I got the best loving care from Susan Stewart, Dione Henry, Lise Nease, and Brad Smith, all home health care nurses. It is not only the practical medical help that is useful but what is reassuring and comforting to know is that we all have the care of our country and our medical system. The Home Health Care can be reached at 501.745. 7004.
Pamela gave us an overview of the Home-health care operation at our Rotary meeting. Pamela has been married to Bob Leal for 41 years and has lived all over the country. Her husband is retired from the Crimes against Children Division for the Arkansas State Police and now works for the Van Buren County Sheriff's office. They have one son, Dr. Josh Leal, who is a maxillofacial surgeon in Little Rock. He is married to KTHV's Meredith Mitchell and has one teenage daughter.
Pamela is an RN and has worked as such for 42 years. In her limited spare time, she loves to be with family and ride her Harley! Pamela also served on the foreign mission fields of Honduras.
As a home health nurse, she has done many types of care including: high risk OB patients, pediatrics, mentally ill patients, and all types of medical-surgical patients. Home health is challenging in locating patients, such as the man who had no home but lived at a deer camp in the woods, the directions of "turn right at the old barn," but it was now a pile of trash in the field, turn right "at the bra in the tree," and being sent to vacant lots in the city. I have made visits from the wealthiest patients where the maid met me at the door to the least fortunate who barely had a door. I love the variety, the challenges, and most of all the opportunities afforded her to minister to patients in their homes in the areas of physical needs, spiritual, and emotional needs. She is blessed to work with the best nurses, aides and office staff anywhere. They function as a team and really more like family. Pamela loves Home Health!!