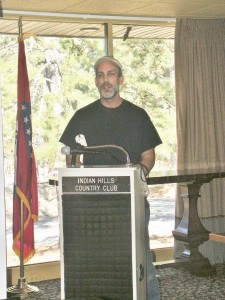 Every once in a while we get local updates about new plans and improvements in our area. This time it was about Clinton. Sean Sikes talked to us at Rotary about Clinton plans. Sean is a resident of the Dennard area of Van Buren County and has been active in his support and love for Van Buren County. He and his wife, Jackie Sikes, operate the Dirty Farmers Community Market in Clinton, Arkansas, a nonprofit organization, which has led to the creation of the Clinton Business and Revitalization Association (CBRA) with Kitty Murdock of United Country Realty. Their love for the community was the beginning of this initiative and the support from the people has been outstanding from the beginning. We, the people, are going to revitalize our County. Volunteers from every city are needed!
Sean thanked us for the opportunity to share our revitalization efforts with the Rotary Club. These latest efforts are not like many that have failed in the past, Sean said ," This effort began as a grassroots effort to be the change that we wanted to see in our county. There have been enough "meetings" to decide what needs to be done. It is time for action and we have a growing community of volunteers willing to make this happen. Our first initiative will take place in the Spring. Our goal is to paint downtown Clinton to give an appearance to our County Seat that will make every resident of the county proud! I would love to see action teams forming out of this initiative, from every city in VBC, to continue the plans that we have for the entire county. I would like to give special thanks to our County Judge, Roger Hooper, for his remarkable support in this project. In my opinion, his leadership and support in this effort is very encouraging. If you have any questions about the 'Stake your Claim in Clinton' revitalization effort, please call our Marketing team at 501-253-4716. You can visit our website at www.welovevbc.com."
I sat back and thought about the fact that we can spend our time and efforts to beautify our surroundings. So it should be; in an advanced civilization where progress is inherent in our lifestyle. It is not so in some other places, like Sudan, Syria, Iraq and many others. Those poor people just worry about the next meal, where to get a clean bucket of water, a warm room and above all, not to be tortured or shot by government troops or insurgents. They surely are not concerned about beautifying their village or having a park where they could smell the flowers and see the children play. Let us keep in mind to be grateful and appreciative of living in the USA.