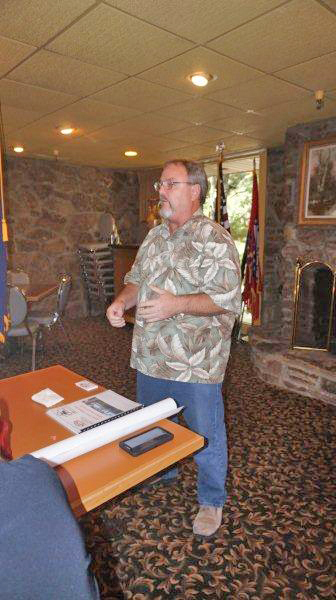 At Rotary we hear and learn about many subjects and projects. The latest rather exciting development is the creation and construction of a new housing project. Michael Lester gave us a nice presentation of the housing plans.
Lester and his wife, Christy, moved to Fairfield Bay in 1978. They have two children and three grandsons, Michael is chief financial officer for " Naocon" "Resort Homes." Lester has an associate degree in general contracting from Western Iowa Tech and has 38 years experience in commercial and residential construction. Lester participated in a mission in Honduras and has a passion for Harley Davidson motorcycles.
Here is what Michael told us:
•1,506 SFT First Floor
•510 SFT Second Floor Level Bedroom/Loft
•2,016 SFT Total Finished
•256 SFT Second Floor Level Conditioned Storage / Mechanical Space
•2,272 SFT Total Conditioned Space
•432 SFT Main Garage
•35 SFT Front Porch
•282 SFT Rear Concrete Patio
•Osage Point Townhomes will be the most aggressive single family residential construction project in Fairfield Bay in more than 25 years!
•Osage Point is a $5,000,000 private investment in the community of Fairfield Bay!
•Osage Point Townhomes will be a 20 unit townhome development consisting of 10 buildings with 2 units per building!
•Osage Point, with a stunning panoramic view of eastern Greers Ferry Lake, looks down from a height of up to 1148 feet! Sweet!
•Osage Point includes a rear patio designed to allow you to have that early morning sun with your cup of coffee in addition to the late morning and afternoon shade! All of this, enhancing your enjoyment of your glorious panoramic view, allows for a 3rd bathroom and a 4th bedroom if desired.
•Osage Point Townhomes are functionally designed with features that include dramatic high sloping ceilings, large windows, floor coverings of hardwood, ceramic tile, carpet, and granite countertops!
•Osage Point Townhomes have an easy access 3rd bedroom loft with an open balcony with a view which easily could be called the game room, the library, your home office, the "grandkids" room, the craft room, mancave or whatever your leisure time and hobbies dictate!
•Osage Point Townhomes are all electric, high efficiency, low maintenance and set up for the easy installation of satellite and WiFi services.
•Osage Point includes a spacious 2 car garage!
•Osage Point offers a feature not known to be offered anywhere else in our area. This would be the "Toy House."
•A large optional disconnected garage to accommodate the "toys" of your life.
•The Harley, the ski boat, the jet skis, the RV towing truck, the antique car, golf cart, the shop…all with easy access across the road from your driveway!
•Live somewhere else? Live here part time? Live here permanently? Your "toy" awaits you just across the road. Secure, protected, charged up and ready to go. Sweet!
•Osage Point Townhomes offer the opportunity for a future Osage Point Community Building, or possibly a pavilion! Family reunion? Social activities? This could be a very nice addition to your property!
Access info: P:501-723-8364 P.O. Box 1360, Fairfield Bay, AR 72088 F: 866-809-5606.