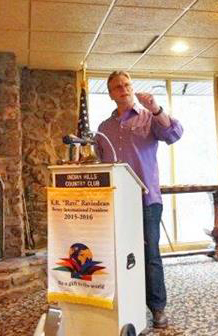 Today we had the pleasure of listening to our Fairfield Bay Editor, Dan Feuer, to tell us about some of the ins and outs of his work. Dan was born in Mainz, Germany. His father was a United States Army soldier and his mother a lovely German girl. His young years were spent in New Jersey, Florida, Texas, Tennessee and finally, Asheville North Carolina. Dan has twin boys and two daughters.
He met his wife, Kim, through long distance, business telephone calls, just as you see in the movies. Dan came to Fairfield Bay in 2002 where Kim was living and they fell in love. Dan started working for the Newspaper in 2003, then was offered the Editor's position in 2004. Dan has now spent 13 years to keep us informed. Dan and Kim have two huskies and two "totally independent cats." They enjoy day trips, trying new restaurants and being part of the lake and festival activities. Of course we all know about Dan's successful acting activities. Most of us, I am sure, have seen and admired Dan's acting performances.
Dan told us about the Fairfield Bay way of presenting news issues. Dan says the paper does not stay away from confrontational issues; if someone wants to submit a constructive opinion about an important issue going on in the Bay, by all means, it should be submitted. There have been instances when an article was brought in when Dan thought the proper people knew what was being submitted. Admittedly in boards past, some wanted to omit certain things that were being held in check, but current boards have not been doing that.
On political issues, the paper tries to stay neutral on all political and religious subjects, but the paper is open to constructive discussion. Dan thinks that the paper has the best volunteer staff anyone can ask for. Seana is Dan's proof reader; Willa takes on many aspects of the paper, from posting payments, to writing articles and much more. Marilyn helps research old articles from the archives and gives us some interesting histories from the Bay and surrounding communities. Dan says he would be lost without these great volunteers.
Often, (if an event is upcoming), articles, photos and ads are submitted so they can be placed in the paper. If Dan is not aware of the upcoming event, he tries to get information from the managers about what may be in the works. For clubs and organizations, Dan has to depend upon someone from that club or organization to submit the information.
Dan talked about the daily challenges. Getting out to capture what is happening when it happens is the most difficult; having a paid staff of one makes it rather challenging. When Dan had a larger paid staff, he was able to get out and do more interviews. Volunteers do not put the paper together.
Dan is the only one at this time doing that. Years ago, it was thought by the Board that the paper was no longer needed and was going to be shut down. Through efforts between Dan and our Mayor, Paul, sacrifices were made and a renegotiation with the Sun Times for press run costs & distribution costs were adjusted to get the paper in the black.
Right now the biggest issue has been subscriptions and delivery of the mailings to the proper facilities. Dan has been working with the new district manager at the Sun Times, trying to get this fixed and seems to have gotten under control.