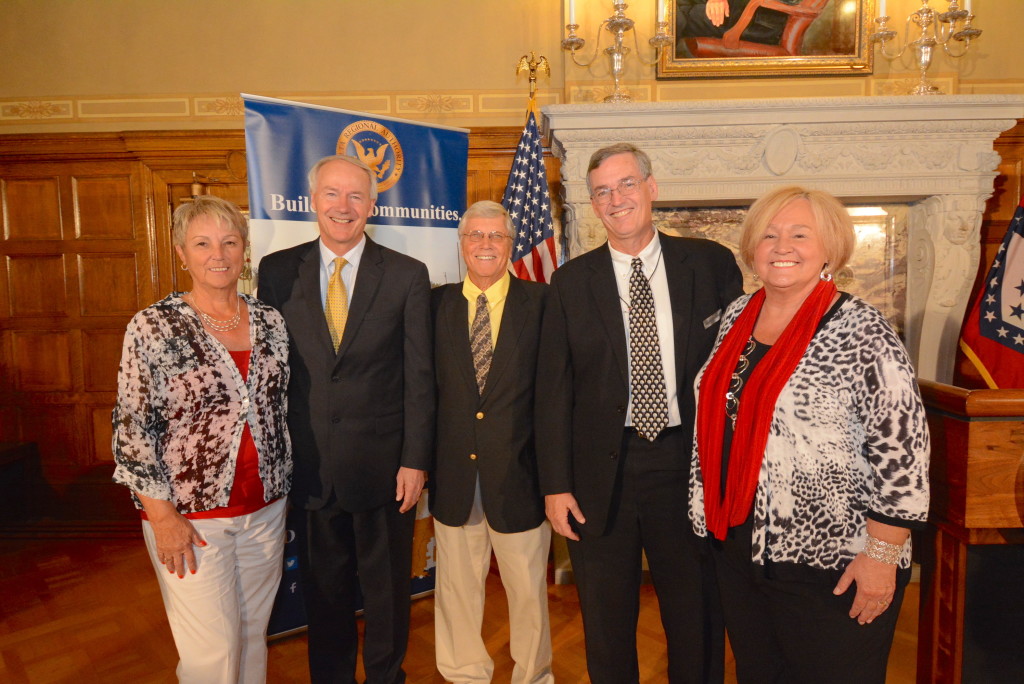 The City of Fairfield Bay and the Fairfield Bay Community Club are pleased to announce the receipt of a $133,266 grant to extend sewer line from the existing manhole south of the Presbyterian Church on Dave Creek Parkway to businesses (Noacon, Cravens, and Dollar General) on Highway 16 that are currently on septic. Under terms of the award the Fairfield Bay Community Club will provide a $50,000 match, making the total estimated project cost $183,266. Design and bidding will take place over the next few months with work on the project projected to begin in the March/April 2016 time frame.
Governor Hutchinson and Delta Regional Authority Co-Chairman Chris Masingill announced 9 grant awards in a press conference at the State Capital on September 23rd. Each award recipient also spoke about their project and its expected impact. Mayor Wellenberger thanked those who assisted with and supported Fairfield Bay's grant application. He also stated that the grant ensures the long term viability of the businesses currently operating on Highway 16, those associated jobs, and provides the infrastructure for future economic growth along this important corridor.
Pictured are Governor Hutchinson speaking, Delta Regional Authority Federal Co-Chairman Chris Masingill on his left and the award recipients. Mayor Wellenberger is third from the right. Also representing Fairfield Bay at this announcement was Fairfield Bay Community Club Board President Ken Schuette.