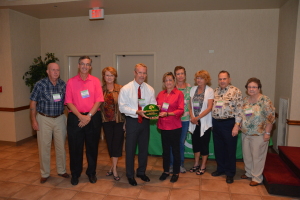 Pictured left to right are: Ron Milligan, Paul Wellenberger, Linda Pratt, Bobby Fanning, Patsy Weidanz, Jaime Lewis, Annalee Culp, John Edmiston and Betty Edmiston
The Arkansas Recycling Coalition (ARC) held its annual awards presentation at the Best Western Inn of the Ozarks Convention Center, Eureka Springs, AR, on September 30. The presentation took place during the Arkansas Recycling Coalition's 24th Annual Conference & Trade Show. Each year this educational event attracts approximately 300 reduce, reuse, recycle, and sustainability professionals from around the state and nation.
The Fairfield Bay HIPPE Recycling Center, located in Fairfield Bay, was the recipient of ARC's 2014 Recycling Education Program of the Year award. The Recycling Education Program of the Year award honors an agency that has made a significant contribution to the advancement of waste reduction, recycling, and sustainability in their community.