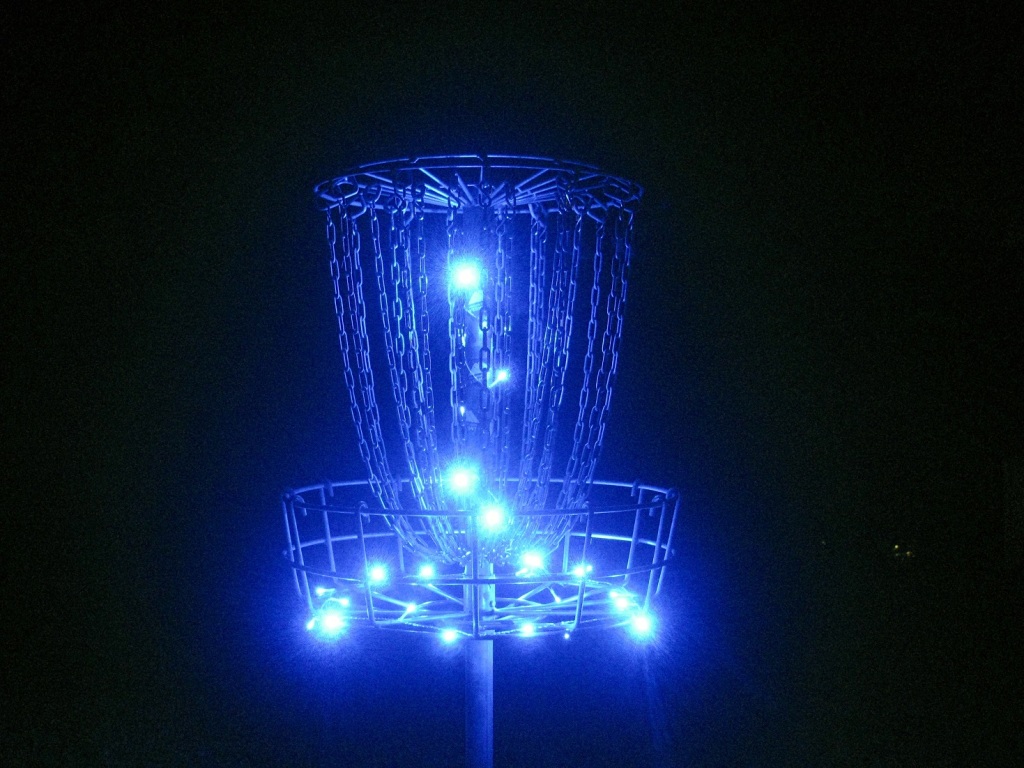 The flags are up and the excitement grows for the first ever Pro Disc Golf Tournament this weekend. Discs will be flying around Fairfield Bay on March 13 and 14 in the Full Blown Open Pro/Am Tournament. This tournament is sponsored by Fairfield Bay Recreation and Full Blown Discs, one of the top names in disc golf. This tournament is open to both amateurs and professionals and some top names in disc golf are expected from surrounding states as well as Arkansas. This is a sanctioned tournament by the Professional Disc Golf Association (PDGA). Disc golf is a growing sport that can be enjoyed by most everyone. There is even a division for senior adults called Grand Master. Fairfield Bay is pleased to be able to offer this quality of event.
The tournament begins on Friday evening at 7:30 p.m. with Disc Glow which is an event for both players and spectators. The course will be highlighted with specialty lighting effects and will provide a unique atmosphere for play at the Woodland Mead Park Disc Golf Course. This event is open to everyone; not just tournament players. We invite everyone to come out for this special event. Cost is $15 plus an additional $3 for glo disc rental.
Saturday is the main event! Registration begins at Woodland Meade Park at 7:30 a.m. on Saturday followed by a Ribbon Cutting Ceremony @ 8:20 a.m. to kick of the event. Beginning at 9 a.m. professionals and amateurs will alternate play between two different disc golf courses, playing a total of 36 holes. Play will continue in the afternoon.
Woodland Mead Disc golf will host 18 holes with the other 18 being played in a temporary course called the One-Of-A-Kind Front Nine which will be located in the trees outside the front nine of the Indian Hills Golf Course. This temporary course is a new and exciting concept being explored here at Fairfield Bay for the first time.
The front nine at Indian Hills Golf Course will be closed during tournament play but the back nine will remain open throughout the day.
Free Shuttle Service will be available on Saturday Afternoon between Woodland Mead Park and Indian Hills Golf Course. Come on out and watch the professionals play disc golf.
Disc golf supplies and equipment will be available for purchase from Full Blown Discs the day of the event. Recreation will also have some items for purchase at fantastic prices. So, come on over and check us out.
Beginning at 5 p.m. on Saturday evening, we will have the awards ceremony where you can meet and greet the players and learn more about this new sport. This event will be held at Little Red at Indian Hills and features a special dinner for your dining enjoyment. The menu will be bacon-wrapped Black Angus sirloin, baked potato and grilled vegetables including fresh-baked bread, salad bar, iced tea, coffee or soft drinks for $20.00. You may also order from the menu.
A schedule is included elsewhere in this paper.
Woodland Mead Park Disc Golf is owned and operated by Fairfield Bay and is open to the public seven days a week. For more information about this tournament or other Fairfield Bay Facilities or events, please contact Fairfield Bay Recreation at 884-6108.