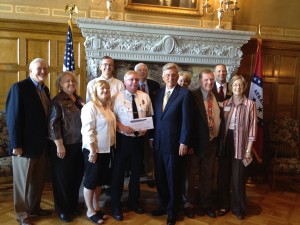 The Fairfield Bay Fire Department is pleased to announce the receipt of a $3,500 grant from the Arkansas Rural Community Grant Program. This grant will aid the Fire Department in the purchase of 19 new hose nozzles, hydro testing of our 36 Self Contained Breathing Apparatus's (SCBA's), and purchasing 5 new cylinders. All these actions will standardize our nozzles and improve firefighter effectiveness and safety.
Thanks to the citizens of Fairfield Bay for your continued support by playing in our golf tournaments, other fundraisers and through donations. Without you, we would not have the funds to go after these matching grants. Our fire department is making great use of our funds and maximizing them through the grant process.
The official grant award ceremony was October 8 at 10 .am. at the State Capitol in the Governor's Reception Room. A special thanks to Fireman Lou Workman for preparing the grant application and to Representative Robert Dale and Senator Missy Irvin for their letters of support. Mayor Paul Wellenberger, Fire Chief John Evans, and Low Workman will receive the award from Governor Beebe.