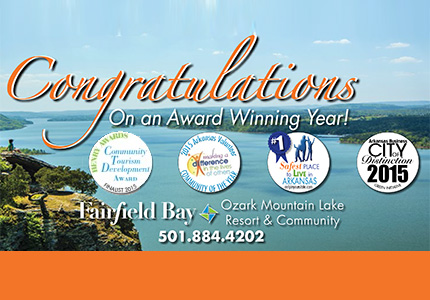 Fairfield Bay is proud to announce it has been chosen as a "City of Distinction" by Arkansas Business specifically awarded for its "Green Initiatives". This is the second award for Fairfield Bay, as last year they were chosen as a City of Distinction for its "Quality of Life".
Each year, Arkansas Business honors Arkansas cities with its City of Distinction awards. The awards recognizes cities that are not settling for the status quo. But excelling, thriving and making a difference. The award recipients are chosen by an independent panel of judges with expertise in each award category. The winning cities have demonstrated a commitment to economic development and quality of life for their citizens. The programs and initiatives they have developed and implemented are excellent examples of the success that can be achieved when community leaders work together.
Read the full article in the December issue of Arkansas Business.
http://www.pageturnpro.com/Arkansas-Business-Group/69515-Arkansas-Business-City-of-Distinction-2015/index.html#22
Special thanks to Patsy Weidanz, Fairfield Bay recycling center volunteer for writing the submission and for Mayor Paul Wellenberger and Director Linda Pratt for pulling the submissions together and entering this fair city. There are so many more reasons now for people to see how special Fairfield Bay is to meet, play and live!
In addition, it's important to note that our progressive Hippe Recycling and Education Center, were also winners of the 2014 Recycling Education Program of the year.
Get Involved. Be part of the Green Team that's growing more every day. The HIPPE Recycling Center is an active part of Fairfield Bay. The unique E-Waste Education Center hosts tours and school groups, and teaches some 'hands on' recycling – promoting a safer and cleaner future for all. The walkway itself is all recycled glass! A shining example for the community.
• Fairfield Bay Hippe E-Waste Education Center
• Volunteer to help or give tours
• Socialize with like-minded residents
• Play a role in the "Keep Arkansas Beautiful" initiative
Schedule a tour or class, Volunteer or for specific recycling guidelines, call 501-884-4184. "Like" HIPPE Recycling Center on Facebook. Address: 150 Garden Lane, Fairfield Bay; Hours: Mon – Fri 9-4 & Sat 9-noon