Linda Ritchie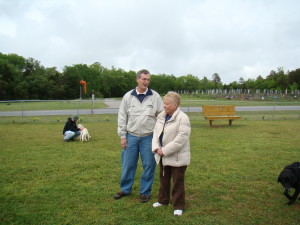 In spite of inclement weather, the Dog Park was officially opened Sat., May 4th, with several folks willing to stand in the rain to celebrate with us. It seemed, as Mayor Paul Wellenberger offered the opening prayer, the clouds started to dissipate as well as the remaining drizzle! We had several happy but muddy dogs romping and playing and it made my heart sing.
I am grateful to so many for helping make this a reality. First of all, many thanks to Paul for taking the idea to the right people and for their willingness to approve the project. The Planning Committee who stood outside in the cold winter months helping to create ideas: Ernie Majhenich, Dan Feuer, Mary Dawson, Jimmie Foster, Sharon Boone, Tania Courville, Dale Ritchie, John Tyler, and Lee Johnson who drew the architectural design. Also many thanks to Leo Brandmeyer for all of his donated time, and Jim Morris for his efforts as well as the fire hydrants ! Mr. Kuno Koy donated 13 southern Maple trees, 12 of which are growing beautifully with new growth visible ! Thanks to Art Deller for digging all the holes and helping plant . Gratitude extends to Bob Berdine and Ingram Phillips and all the gentlemen of the Kirk Men's Club who built and delivered the memorial benches. They are very handsome and sturdy, indeed. Well, the benches are, and I'm sure the fellows are as well !!!! Thank you to all the donors who sponsored the benches: Sherry and Tom Welch, Sue Humphries, Gail and Ray Nelson, Gary and Marilyn McDonald, and Bob Vierregger, who sponsored 2 benches. Cheryl Heuer contributed funds for the doggie bag dispensers….many thanks. Dallas Clark, you were great to work with me.
Small Engine Power in Higdon donated a riding mower so Jimmie (bless his heart) can keep the grounds in great shape.
Most especially, my dear husband, Dale, who gave hours of time and effort digging holes and planting trees and the shrubbery on the street-side of the fencing. He also secured the memorial plaques in the cold and rainy weather, as well as the guard fencing around the new trees. Beside that , he was patient and supportive of me with this endeavor, spending hours just listening. Signs of a good man !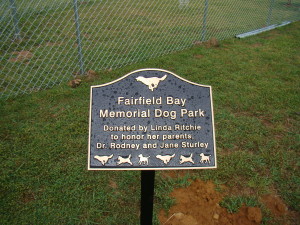 I donated the park to honor my parents, so a word about them. They both grew up in White Bear Lake, Minnesota. My father was in the Pacific Theater during WWII. My oldest sister was born the day he shipped out of San Francisco, heading to New Caladonia as a Captain in a M.A.S.H. unit. Three years later he returned and began practice as an Obstetrician/Gynecologist in St. Paul, Mn. He retired at 65, had triple bypass surgery , and died while skiing at Sun Valley, Idaho at age 68 of a massive heart attack.
Growing up, my parents allowed my sisters and I to have only dachshunds because" they didn't shed". Whatever! We had 5 throughout the years. My mom who, will be 99 in August and is in a memory center ( and doing very well) is thrilled that "sheddy" dogs, or all dogs, have a playground, and I'm certain my Dad is happy, honored and proud. Please enjoy the park and use it often. Share any concerns with me, as I wish to have it a joyous place ! With sincere gratitude to all!