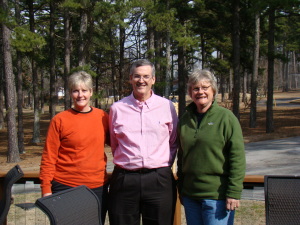 The Fairfield Bay Community Club and The Little Red Restaurant are pleased to announce an agreement in principle for the acquisition of the equipment, inventory, liquor license, and name of the area's #1 rated restaurant on top travel web & app sites – Trip Advisor, Yelp, Urban Spoon, YP, Around Me, Facebook, Four Square, and Google Maps. Most of the equipment acquired will be utilized at the new Bay View Grill (currently under construction).
More importantly, the agreement includes a contract for Deb Ivanor and Jeannie Stone to manage the Club's food operations through 2015 and in March and April of 2016. Those operations will include The Little Red Restaurant at Indian Hills, The Bay View Grill, Conference Center catering, and the Little Red Cafe at the Fairfield Bay Marina.
The City will also introduce a bar operation at the Conference Center Bistro by leasing the Club's additional liquor license.
This team brings many years of successful restaurant management experience to the benefit of our Club and City, providing continuing improvement at our Indian Hills operation while getting the new Bay View Grill off to a great start. Catering services will remain unchanged during this critical early growth period for the FFB Conference Center and the Bistro will begin generating revenue for the City in early 2015.
All of these activities are key to the long range success of Fairfield Bay. Late in 2015, Deb and Jeannie will assist Club management in the recruitment, hiring, and training of a full time Food Operations Manager. The Club is pleased and grateful to acquire the services of such a capable team during this exciting growth and transition period for our community. Watch for the announcement of the grand opening of the Little Red Restaurant at Indian Hills soon!