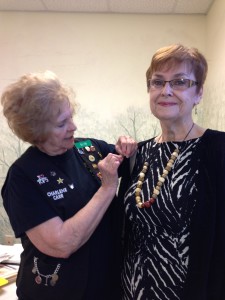 Every March we have upcoming elections, hoping to bring in some new officers….Our leader, Charlene Carr, had been leader for 3 yrs and now she needed a well deserved break. It is nice to bring in new people with fresh new ideas and being leader is a lot of work. They are given a lot of paper work to prepare them for the position and also classes that they can go and attend that happen on a Saturday.
This year, someone who truly knows the struggles with weight loss stepped up to take this position. We are very lucky to have Barb Neal. She is already preparing to go to workshops to help her do a great job in keeping members and bringing in new members.
We have several other positions that take a lot of work One with a lot of paper work is the weight recorder. Pat Sullivan had done such a wonderful job for us for several yrs now but felt she needed a break. This job requires someone who works well with figures, in so many ways….She stepped down to assistant weight recorder and Margaret Steen stepped up to be weight recorder.
Our Secretary, Verna Hicks, stayed from last year, also doing a wonderful job for our chapter , she takes notes on each meeting and turns all this info over to our area capt who highlights things of special interest that will be published in our monthly TOPS News report. Then we have another helpful lady, Shiela Brown, who remains in her position. She is one who finds games for us to play, keeps enthusiasm going for TOPS and fills in when others are away. The last job is our treasurer, who again this year kept her position and we have to say a big thank you to Betty Vegedes, for keeping the books going for us as she makes sure our bills get paid, another position that has to be filled with someone who is real good with figures.
Once the positions are all filled, we have a special meeting on the first Monday in April called our Installatio, where we officially install our new officers. We say a big thank you to the ones that are stepping down and a great warm welcome to those that are stepping up to take on the challenges that come with their new job titles. After our installation meeting we went over to Jacks where they had prepared a great, healthy meal for us by providing soup and salad with so many fruits and yogurt choices. We owe them a big thank you for such a great meal this year….Our chapter has been around for several years now, offering those support who are wanting to make those life style changes.
We do hope that if this finds you needing to take off some weight and needing support and giving you the knowledge on what it takes, you will stop in for a free meeting. We meet every Monday at The Hart at 8:30-9:30 a.m. for weigh in and then a short meeting from 9:30 to app. 10:30 a.m. for a great program in weight loss. Our yearly dues are so reasonable as they are only $28 a yr.
For more information contact AR 0294FFB Chairperson Nancy Edwards at 501-884-3917. It has been proven that with support, weight loss is so much more achievable