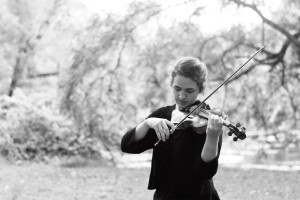 The North Central Arkansas Foundation for the Arts and Education (NCAFA&E) will sponsor a "Fairfield Abbey Tea and Afternoon Concert" in July.
We are all invited to don our gloves, hat, and whatever English Garden Tea attire we desire, and come to the Fairfield Bay Conference Center for an afternoon concert featuring the "Musical Inspirations String Trio". As we sip coffee, tea and punch, and taste a variety of finger foods, we will relax to the beautiful chamber strings of Rachel, Joanna, and Susanna Phillippe (also known as Annalea Cook's granddaughters).
The "Musical Inspirations String Trio" performs for weddings, banquets and events across northwest Arkansas and southern Missouri. They especially enjoy performing in unique locations such as the historic Crescent Hotel and the famous glass Thorncrown Chapel in Eureka Springs, AR; the Mildred B. Cooper Chapel in Bella Vista, AR; and Big Cedar Lodge and Top of the Rock in Branson, MO.
Susanna (violinist) currently works in Geraldi's Restaurant in Berryville, AR with plans to begin college in the fall in pursuit of a degree in nursing. In addition to the violin, Susanna enjoys playing the harp, composing melodies and performing Celtic tunes.
Joanna, when not playing the viola, enjoys her job as a vet assistant in Green Forest, AR. She is also an advanced horse trainer and works at several ranches in the Berryville, AR area. As a skilled guitarist, she enjoys composing and singing everything from "oldies" to hymns to current pop tunes.
Rachel (violinist) is a full time student at the University of Arkansas pursuing a double major in Music Performance and Music Education. She currently runs her own music studio teaching violin and piano.
Do plan to join us at the Fairfield Bay Conference Center on Sunday, July 12, 2-4 p.m. Bring yourselves, your friends, visitors, children and grandchildren for quite a bit of inspiration, relaxation and mind expansion as the beautiful music which reverberates throughout the Conference Center's Living Room and Bistro. Tickets are $12.00, available at the Conference Center. Plan to get your tickets early as seating is limited. This event is sponsored by NCAFA&E to allow them to continue bringing fine artists to the community and to area schools.