I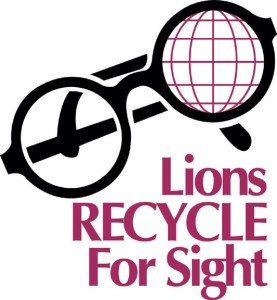 n just about any home here in Fairfield Bay or the surrounding area, one can find a pair of eyeglasses that are no longer being used. That same pair of eyeglasses can help change another persons life. That's why Lions around the world, including here in Fairfield Bay, have the Lions Recycle for Sight program. Everyone can help. Throughout the year donation of no longer needed glasses are accepted at the Lions Den on Dave Creek Parkway or in collection boxes at the Post Office and various banks here in the Bay. A couple of times a year, the glasses are taken by a Lion volunteer to North Little Rock and most of the recycled glasses are distributed to people in need in developing countries where they will have the greatest impact. So, if you have prescription glasses or sunglasses or, like us, just unused cheaters (amazing how we have to keep getting stronger ones) bring them to one of our collection points and help the Lions help others.
Our Tuesday and Saturday All-U-Can-Eat Breakfasts will come to an end for this year with the final one being on Saturday, August 31. For just $5 for adults, $3 for youth 6-12 or children 5 and under with paying adult being free you can enjoy all you can eat pancakes or gravy and biscuits with sausage and beverage from 8 a.m. – 10 a.m.
BINGO is held each Monday evening with doors opening at 5:30 p.m. and the first game called at 6 p.m. Our next meeting is Thursday, August 29 when our speaker will be Jackie Sikes, with the Dirty Farmer Community Market in Clinton. Our meetings are the 2nd and 4th Thursday of each month, with dinner at 5:30 p.m. and our meeting and guest speaker at 6 p.m. Guests and visiting Lions are always welcome.