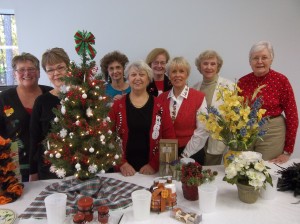 On Saturday, November 2, the Eta Beta Chapter of Beta Sigma Phi hosted their annual soup luncheon and wreath raffle. In the center picture is members of the sorority who worked like elves for months, creating wreaths, swags, christmas trees and centerpieces for their annual fund-raising event, which benefits local charities. From left to right in the front row are; Jo Cornell, Joyce Dobbs (peeking around the tree), Pauline Sears, Judy Leason, Dorothy Scharnhorst and Kathy Eddy. In the back row are Mary Martin and Elizabeth Newton.
Even though the emphasis was on Christmas, every holiday was represented, giving a wide range of choices. This was my first year to attend, so I was excited. I circled the room cautiously at first, not sure yet of just how to let go of the long string of tickets in my hand. The idea is to buy the number of tickets you want, then walk around the room and "spend" those tickets on the items you hope to win by dropping a ticket or tickets in the cup next to the item. Tickets were drawn from each cup after the delicious lunch of homemade soups and desserts. I chose the unstuffed green bell pepper soup and a decadent gooey chocolate, caramel, coconut and pecan something-or-another. I could've made a pig of myself on several bowls of soup, but I controlled myself.
Some people make this an annual event, while others, like me, attended for the first time. For instance, one of the winners, not pictured, was Shirley from Kansas City who was in the area to celebrate the 100th anniversary of Shirley, Arkansas. Two couples were here on their fall time-share; Gloria (pictured upper left) and Paxton Hutchison from Fort Worth, Texas and friends, (not pictured), Jeanette and Ken Durham from Longview, Texas.
Other winners pictured are: Jan Crouch, with a beautiful white, crocheted afghan with a hearts and angels theme made by Pauline Sears; Linda Tempel is "all smiles" – winning one of her four prizes, Susan Wiabel an avid attendee and popular winner of multiple items; Theresa Littell is shown holding the large gold centerpiece made by Mary Martin and Van Swink is deciding on where to drop his tickets. In my opinion, everyone had a terrific time – even those who didn't win a single item – like me! But…I will go again next year.
By Willa Wells (Sorority Sister from another chapter, took the pictures)