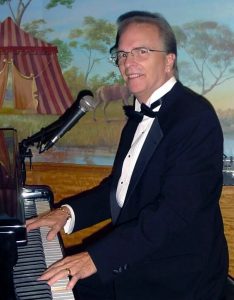 DJ has entertained audiences for 30+ years on the road as well as at home. His heart-felt singing style, piano magic, along with guitar and bass showcase his musical talents which are as varied as the many decades his songs represent.
Whether it is oldies, country, rock & roll, standards, or his original tunes, you will certainly enjoy his comfortably familiar show while dancing or just sitting and listening.
Enjoy the ultimate in Dance Party Fun! Commander Flashback and Miss Donna will be taking requests for The Virtual Jukebox.
This party is ready and waiting for you to remember the '50s, '60s, '70s and newer.
"Dance and Romance" like it was yesterday.
This is Toe Tappin' and Hand Clappin' Fun! Fun! Fun!
When DJ was a young man, he was part of the band that played for the original Grand Opening of Fairfield Bay!!!!!!!!!!
So get ready for a great time when Flashback's Traveling Parties presents DJ and Donna Garrison and Malt Shop Memories at the Fairfield Bay Conference Center. It will be a memorable evening of live music and laughs! Tickets are $15 per person and are on sale NOW! That is Friday evening, August 19 at the Fairfield Bay Conference Center.