Poets Write About Our Cave
August 4, 1989
The Poets of the Lake, a local writing and poetry club, and members from the Poets Roundtable of Arkansas met in Fairfield Bay to visit the Indian Rock House Cave. Each wrote a poem about the huge natural landmark for a contest sponsored by the Poets of the Lake. These three poems were judged to be the best.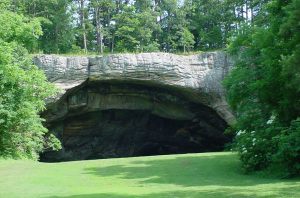 The Stone Grotto
By Clovita Rice, Little Rock
First Place
Covered with thermal earth,
the stone grotto
is curled asleep
still dreaming of ancient men
who branded
his abdomen with circles,
still dreaming of another one
who came asking
for the fountain…
that one who needed
the fountain of youth
has long been dust,
and the stone grotto retains
its secret
of longevity…
Petroglyphs
By Pat Ludden, Fairfield Bay
Second Place
What were they trying to tell us
With their writings on the wall?
Their laws, beliefs and recipes, or
"For whoopee give White Fawn a call!"
What were they trying to tell us
Of famine, battle or feasts?
Or a mother's wailing anguish
At her child lost to a beast.
What were they trying to tell us
Some tales they wanted to save?
Or was it just teen-aged prattle
"The Graffiti of the Cave?"
Eroded Memories
By Mary Harper Sowell, Fairfield Bay/Shirley
Honorable Mention
Oh, Winnitoka, Chief of Cherokee
You grieved to leave this cherished hallowed place
Where generations of your tribe had lived
Before you left it for the Trail of Tears.
You kept within your heart the memories
Of rocky hills, tall pine and clear blue sky
Which framed the vaulted home that nature carved
To shelter your descendants for a while.
Those memories are all but gone today
Of your ancestral home and hunting ground.
The white man came and changed it to his needs
Attracting crowds who come to look with awe.
They stopped the spring that flourished in your day
And furnished water for your mighty tribe.
The creek where deer and bear once drank their fill
Is now a golf course where they tourists play.
The corner of the cave where you interred
The tiny body of your girl-child there
Is covered over now with man-made rock
And no one knows it is a hallowed place.
The sons your buried on the hill now sleep
Beneath the waters of the might lake.
The hieroglyphics telling of your tribe
Are lost beneath graffiti white men write.
Smooth man-made steps lead throngs of curious
Down paths where only moccasin had trod
To view your monumental hall of fame
And gawk among your tribal artifacts.
Oh, Winnitoka, Chief of all your tribe
You grieved to leave the home you loved so well.
Hold to the memories you took away.
Your heart would break if you could see it now.