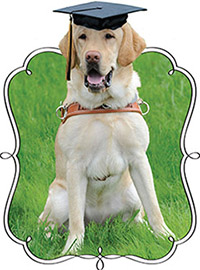 by Jim and Phyllis Wilkins
Leader Dogs for the Blind was founded on April 4, 1939 as the Lions Leader Dog Foundation. The next month, the Foundation leased a small farm in Rochester Hills, Michigan to house their new venture. Fifty dollars a month rented a farmhouse for the clients and staff, a barn for the dogs and a garage. The first class of the official Lions Leader Dog Foundation graduated on October 8, 1939. The cost to graduate a client/dog team was $600. Soon after incorporation, the Lions International Board of Directors requested that the word "Lions" be removed from the name because they had not sanctioned official support of the organization. In June 1940, the new name "Leader Dog League for the Blind" became official. The remainder of the 1940's saw additional growth of the organization and increased involvement of local and nationwide Lions Clubs. Support came in the form of donations, identifying potential clients and spreading the word of the Leader Dog's work and mission." (www.leaderdog.org). Now, some 75 years later as Leader Dogs for the Blind celebrates its diamond anniversary, Lions Clubs throughout the country and around the world continue their support for "Leader Dogs and its clients financially. They also brought thousands of people who needed assistance through Leader Dog's doors, and have continued to serve on the Board of Trustees. To learn more about the Leader Dog program and Lions Club involvement please visit their website listed above.
The Fairfield Bay Lions Club meets the 2nd and 4th Thursday of each month and our next regular meeting will be Thursday, October 23. Meetings begin with dinner @ 5:30 p.m. ($7.50 per person, reservations requested by the Monday prior to meeting date – Lion Jeannie Hooper 884-3202) and the meeting and guest speaker following at 6 p.m.
BINGO is held each Tuesday evening with doors opening at 5:30 p.m. and the first game begins at 6 p.m. Please come and join us for a meeting or our fund raising events to support our local vision & youth programs.