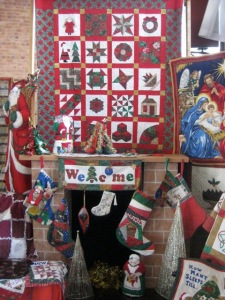 Thirty festive quilters gathered to visit and share at Piecemakers monthly quilt club meeting and Annual Christmas Party on Wednesday, December 17, 2014. Linda LaDoux welcomed everyone; Pam Davis gave the treasurer's report and Victoria conducted an abbreviated business meeting.
Linda LaDoux called on participants to show their finished quilt top for the 2014 Block of the Month. Patsy Huie brought a completed top and Ramona Johnson brought the completed quilt. The 2015 block of the month will start in January. It will be basket blocks—a different basket each month. A "Row by Row" exchange as an ongoing project for next year has been suggested. At least 9 people are needed; if enough signup, it will start in February. Winter Retreat is scheduled for March 2 to 5, 2015 at Mount Eagle. Signup starts in January. To conclude the meeting, our outgoing president, Victoria Banks "passed the gavel" to our new, incoming president, Eloise Brown.
The partying then ensued with a delicious luncheon amid lovely decorations. We extend special appreciation to our party committee—Ida Holt, Robbie O'Dell, and Susan Moore. Tables were decorated by Chassie Rissola. Neva Thompson came early to help Robbie and Susan with last minute preparations, as Ida was sick. Clean up was aided by Bro. George and Chassie. We were treated to a numbers of party favors/gifts. For the luncheon, the meats were prepared by Robbie; and the wonderful side dishes and desserts were contributed by Piecemakers members. Mary Myers gave the blessing on the food. Everything tasted absolutely amazing.
Following the lunch, we had the Orphan Block Gift Exchange. It was so fun to see the clever ideas the participants came up with to make use of the orphan blocks and the excitement on the faces of the recipients as they recognized their block. Sew 'n' Tell this month included: a Christmas wall hanging; a snowman apron; a Christmas runner; two 1600-inch quilts combined to make one quilt; a coffee pot mat; 3 casserole carriers; a Disney quilt; a red and white Christmas runner; a red and white star sampler quilt (2014 BOM); a red, white, & blue twister wall hanging.
Piecemakers next meeting will be on Wednesday, January 21, 2015 at 10 am at the Methodist Church in Clinton. Anyone interested in quilts and quilting is invited to attend.