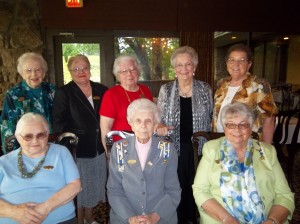 From right to left…Front row, Jo Lee Larsson, Regent; Lois Rickman, Vice Regent; Mary Hale, Chaplain,  Second row, Carolyn Johnson, Recording and Corresponding Secretary; Janet Small, Treasurer; Ruth Browning, Registrar; Dora Robinson, Historian and Ruth Rasmussen, Librarian.
The Little Red River Chapter 6-0443-AR monthly meeting and luncheon was held at the Indian Hills Country Club in Fairfield Bay on Friday, May 10. Officers were installed for 2013-2014. Appointed officers and committee chairmen will be determined at the board meeting in June. Regent, Jo Lee Larsson welcomed new members, Edna Nigh of Fairfield Bay and Susie Reynolds of Mt. Vernon.
During the meeting April 13 at Harding University, Fritzie Statler, Vice Regent, presented the "Good Citizen" Award to Pangburn high school senior, Taylor Creamer. Taylor was chosen based on her activities, grades and her essay entitled, "Our American Heritage and Our Responsibility For Preserving It." The award includes a "Good Citizen" pin, certificate and a $300 check from the Little Red River Chapter of the Daughters of the American Revolution.