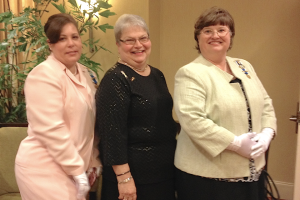 The Arkansas Society Daughters of the American Revolution held their 107th State Conference March 19-21, 2015 at the Doubletree Hotel in Little Rock. Members of the Little Red River Chapter attending were, pictured above from left, Kimberly Walker of Fairfield Bay, Ramona Diles of Pangburn, and Leona Kemper-Cash of Quitman.
The Little Red River Chapter's next meeting is April 11, 2015 at Harding University in Searcy. The meeting will celebrate the 40th Anniversary of the Chapter, which was organized in March, 1975. Several state officers, including Mary Deere, State Regent, will be in attendance. The program is to remember the history of the Chapter. Each member will share the name of their Patriot and some details about their service during the Revolutionary War.
If anyone is interested in learning more about becoming a member of DAR, please contact Jo Lee Larsson, Chapter Registrar, at (501) 772-8536.